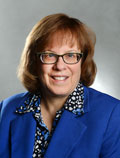 Michelle Piranio
Interim Chief Audit Executive
News and Updates
Internal Audit
The Office of Internal Audit and Consulting Services provides the University of Missouri System and the four campuses independent, objective assurance and consulting services designed to add value and improve University operations. Internal Audit reports directly to the Board of Curators and its mission is authorized by the Internal Audit Charter. Additionally, the Board has a designated Board of Curators Audit Committee that oversees the audit function.
Internal Audit is comprised of three teams that specialize in Health Care, Higher Education and Information Technology. The group also oversees the University's fraud and abuse hotline at 1-866-447-9821.
Interim Chief Audit Executive
Michelle Piranio | 573-882-6151 | piraniom@umsystem.edu
Health Care
Higher Education
Information Technology
Michelle Wisdom | Director | 573-882-5161 | wisdomm@umsystem.edu
Julie Gochenour | Lead Auditor | 573-882-0516 | gochenourj@umsystem.edu
Reviewed 2017-05-09.