Director of Supplier Diversity and Small Business Development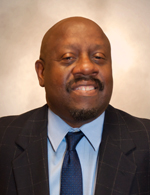 As director-supplier diversity and small business development, Daryl Hodnett works with campus procurement and construction groups' systemwide to help support the effort to increase supplier diversity results. Additionally, he leads the university's Advocacy/ Mentoring and Advisory Council efforts as well as working on developing a cohesive supplier education outreach program. Mr. Hodnett serves as the university's internal subject matter expert and external spokesperson of the supplier diversity effort.
Previous to this role, Mr. Hodnett was managing partner of Damiho, LLC for the past 7 years, focused on various aspects of supplier diversity development. Some of his clients included Diversity Information Resources (training new and experienced supplier diversity professionals), Time-Warner, Johnson and Johnson, The KLEW Company and Shell Oil.
Before that, Mr. Hodnett was at The Procter & Gamble Company in Cincinnati, Ohio. His last assignment was group manager-corporate supplier diversity: North America Product Supply. Appointed in 1991, annual spending was $170 million when he arrived and increased over 970% in 15 years exceeding $1.8 billion in 2006. Besides providing counsel to business units and leading the creation of policy and business plans, Mr. Hodnett was personally responsible for helping to create and expand many diversity suppliers for P&G and corporate America. Prior to this assignment, Mr. Hodnett was a media manager-North America General Advertising (1981-1991) with primary responsibility for managing and overseeing the scheduling of the company's $625 million consumer brands' national television budgets.
Mr. Hodnett completed the film "Supplier Diversity – The American Business Case" in 2001. In 2003, he filmed "Economic Inclusion-Why Supplier Diversity is Important", featuring A.G. Lafley, Chairman and CEO of P&G. In 2006, Mr. Hodnett completed a film project for IAMS Pet Food called "Creating Opportunities-The Diverse Solutions Story". Mr. Hodnett won several awards for his "Supplier Diversity-The American Business Case" film, including an award from The Communicator in 2002 and a "Telly Award" the same year.
Mr. Hodnett attended the University of Cincinnati with a major in Business Administration. He currently resides in Columbia, Missouri and in Cincinnati, Ohio with wife, Regina and two sons. He has been previously active in the Cincinnati Public Schools Youth Collaborative and Big Brothers efforts, developing mentoring programs for high-risk youth. Among several awards, he was a YMCA Corporate Achiever in 1990 and was selected as one of Minority Business News (MBN) "Best of the Decade", in 2000.
Reviewed 2014-01-28.