Dear University Community,
This month has been full of reminders about the value of connection. A major example was the release of the Blue Ribbon Panel's report on the potential Missouri Hyperloop. At the media event marking the release, I joined state officials in speaking about how we will need to make a strong case for Missouri as the best place in the country for this project. The UM System is a major contributor to the state's infrastructure through the work of its renowned researchers, such as Dr. Bill Buttlar, who oversees the Missouri Asphalt Pavement and Innovation Lab, or Dr. Genda Chen, who was recently recognized as International Person of the Year by the Structural Health Monitoring Journal. Combining the world-class talent at our universities with the revolutionary Hyperloop could make Missouri a proving ground for the technologies of the future.
| | |
| --- | --- |
| ​ | "I joined state officials in speaking about how we will need to make a strong case for Missouri as the best place in the country for [the Hyperloop]." |
Using technology to build transformational connections is a primary goal of the UM System. One way we're doing this is through the NextGen Precision Health Initiative, our top priority that will transform health care by connecting and leveraging the strengths of our four universities. The initiative received a major gift this month when Jim Fitterling, an MU alumnus and CEO of Dow Chemical (a company with $86B in revenue in 2018), donated $6 million to the project. This is just one sign that we're well on our way down the path of health care innovation. Another is MU Health's recognition as one of the nation's "Most Wired" health systems for the 9th year in a row, representing its place in the top 2 percent of organizations improving patient care using advanced technology. We also see progress in how MU researcher Dr. Diana Gil Pagés was awarded a $3.7 million federal grant to work towards more effective immunotherapy for cancer patients as part of the NIH Cancer Moonshot initiative. Similarly, MU is using a nearly $4 million grant to foster collaborations through the new Midwest Biomedical Accelerator Consortium, which will accelerate and commercialize medical breakthroughs. I'll continue to provide regular updates on the NextGen Initiative in future Highlights newsletters.
"The [NextGen Precision Health Initiative] received a major gift this month when Jim Fitterling, an MU alumnus and CEO of Dow Chemical, donated $6 million to the project."

 
Our universities appreciate the value of connection. There were nearly 5,000 participants in this year's inaugural UM System Engagement Week, which featured discussions on connecting our communities by improving broadband access in Missouri, as well as other events that explored our impact. Additionally this month, MU strengthened connections with our community college partners by establishing a new articulation agreement - just one of our efforts to ensure transfer student success. UMKC connected with our federal government by hosting Assistant U.S. Education Secretary Johnny W. Collett on a recent visit and also by answering U.S. Secretary of Health and Human Services Alex Azar's call to aid Venezuelan refugees. Missouri S&T continues to build connections with Missouri's rural communities by expanding Project Lead the Way and bringing science education to 10 state school districts. UMSL maintained invaluable connections with alumni by celebrating their accomplishments at its annual Founders Dinner.
As a public institution of higher education, our most important work is connecting our students with successful futures. At the Missouri Chamber of Commerce Workforce 2030 Conference, I gave a keynote presentation about how universities must adapt in this age of disruptive technology and how we must collaborate with industry to plan for the future. At the UM System, we're modernizing curriculum with events like the MOREnet Cyber Security Challenge (learn about the competition here!), new programs at the MU Center for Entrepreneurship and Innovation (read their latest quarterly report), a cybersecurity program at UMSL that recently attracted support from U.S. Bank and so much more.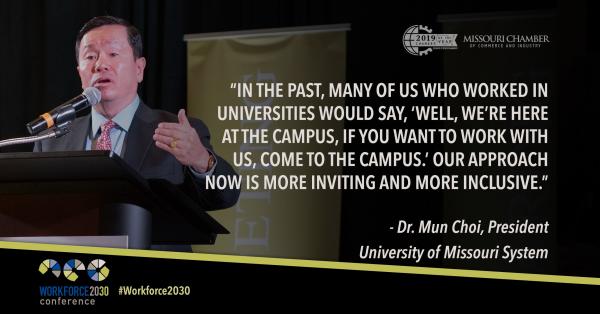 ​
Another part of modernizing means supporting non-traditional students, as we enter an era of life-long learning and upskilling. UMKC just received a $1 million grant from the National Science Foundation to help working transfer students complete their degrees. Similarly, UMSL has joined Degrees When Due, a nationwide initiative that helps students get back on track to graduation. We're working to lower the barriers to degree completion across the system, especially when it comes to education costs. This fall, we showed our appreciation for faculty who have integrated Open Educational Resources into their courses making education more affordable for our students. There's no better reward than seeing one of our students find success on their career journey, such as MU's Corey Gilmore, who has launched, Collaborati, a fascinating leadership lifestyle podcast. Listen to a recent episode here, featuring Missouri 100 leader, proud MU alumnus and CEO of Miller's Professional Imagine/Mpix, Richard Miller.
I'm proud of the steps we've taken toward connecting our students and state to a bright future. You can learn more about the progress we've made in our strategic initiatives progress report. If you're interested in our universities' visions for the future, I encourage you to check out MU Chancellor Cartwright's and UMSL interim Chancellor Sobolik's State of the University addresses. Missouri S&T Chancellor Dehghani will be giving his inaugural address on Nov. 6, so be sure to keep an eye out for that. Across the system, there's a lot to look forward to. If you have a story about how our university community builds connections, please send it to president@umsystem.edu.
Reviewed 2019-10-31