Service with Distinction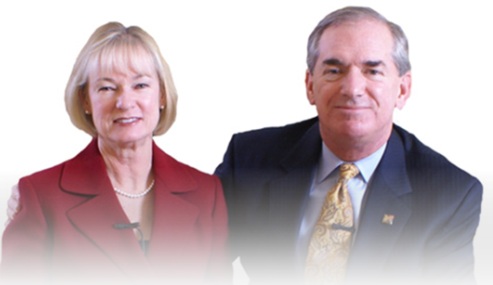 From Feb. 2008 to Jan. 2011, President Gary D. Forsee and his wife Sherry served the University of Missouri System and the state of Missouri with extraordinary distinction.  On the job and off, they were tireless advocates for the university, the members of its community, and for education in general.   Their personal leadership encompassed the highest of values and ethical standards, and they are widely known for their humility, wit and warmth, intellect, compassion and philanthropy.
The Gary and Sherry Forsee President's Endowment for Excellence was established by the University of Missouri Board of Curators and friends of the university to honor the outstanding leadership and service of Gary D. Forsee, the 22nd president of the University of Missouri System, and his wife Sherry.
Contributions to the fund are directed at the discretion of the system president to advance the mission of the University of Missouri System, with an emphasis on program development, salary enhancements, faculty research and student scholarships.
We invite you to share in the establishment of this endowment in honor of Gary and Sherry Forsee's leadership and advocacy for the University of Missouri System.  Gifts of all amounts are welcome and are tax-deductible to the full extent of the law.  Click here to learn how to donate to the endowment.
About Gary and Sherry Forsee
An alumnus of Missouri University of Science and Technology, Gary Forsee has time and again proven throughout his global career that he is a visionary leader, with the conviction and fortitude to make difficult, merit-based decisions.  He skillfully led the four campuses of the university through the country's severe economic recession that began in 2008, building important new relationships and private-public partnerships, while also finding ways to fund deferred facility needs, hold student tuition flat for two years and realign resources with strategic priorities.   
Gary and Sherry Forsee believe that one of life's greatest joys is in giving back to society, and their giving extends from financial support and leadership on the Heart of Missouri United Way campaign, and scholarship and endowment contributions, to the world-class Cisco TelePresence Centers they funded for the four University of Missouri campuses, as well as countless hours of personal volunteer time given to community organizations.
Sherry Forsee represented the University of Missouri as an energetic, enthusiastic, gracious and generous first lady. At ease in any situation, Sherry, as a former teacher, contributed a strong and engaging voice in support of education and the university.  By complementing each other in a strong and effective partnership, Gary and Sherry Forsee seemingly effortlessly juggled the demanding schedule of a university system presidency with the priority of family. 
Reviewed 2019-08-05