University of Missouri System Strategic Priorities
The collective strategic priorities for the University of Missouri System and its four campuses include: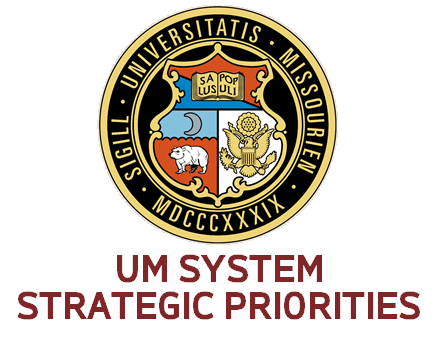 Strategic Planning: The university will develop a strategic planning process to chart the future course of the university. Work began in June, 2012, at the system and campus levels to develop clear and compelling strategy statements for the next five years that: clearly articulate the campus' objective, scope and advantage; have related metrics; drive the campus strategic goals and action plans; and are supported by a viable financial plan. Click here to learn more.

Attracting and Retaining the Best People: The university will continue to focus on investing in its people through competitive salaries, benefits and programs that allow faculty and staff to be more productive and valuable to students and the institution.

Innovative Instruction: The university will significantly expand its successful eLearning programs to further improve student success and provide access to more students. It is anticipated that this will also generate additional revenue for the university.

Operational Excellence: The university will continue to improve efficiency and effectiveness across the system through Operational Excellence Initiatives, which underpin the university's continued commitment to serving as diligent stewards of the public and private funds invested in the system.

Expanded Research and Economic Development: The university will continue to expedite the movement of innovations to the marketplace, stimulating Missouri's economy with the creation of new businesses and jobs. Office of Academic Affairs

Effective Communication of our Value and Importance: The university will improve its communications outreach by more effectively relaying how the university reaches every Missourian—every day.
Reviewed 2015-11-11.