United Way 2012
GIVE TODAY: http://unitedway.missouri.edu
2012 UM System Campaign Events:
Nov. 12-16: 2012 United Way Online Auction
Together, we are Advancing Missouri's communities by supporting the Heart of Missouri United Way and its affiliated service agencies in the mid-Missouri area. Your support is critical to the operations of the United Way and participating in the online auction is a great way to not only support the United Way, but to all find some great items. A BIG thank you to all of those who donated to the auction this year! Visit the action site at: http://www.umsystem.edu/apps/hr/united/.
Sept. 21-Nov. 16: Casual Fridays
With approval from your department, every Friday from Sept. 21 through Nov. 16, a donation of $1.00 allows participants to dress casually.
Past Events:
Sept. 17: Campaign Kickoff
MU/UM: 7:30 a.m. at Mizzou Arena's South Concourse
Oct. 5: Day of Caring
The University of Missouri System held its annual Day of Caring October 5, 2012, at The Food Bank for Central & Northeast Missouri. In total, 118 employees provided 472 hours of volunteer service and processed 7,800 pounds of frozen pizza bites and 11,240 pounds of rice.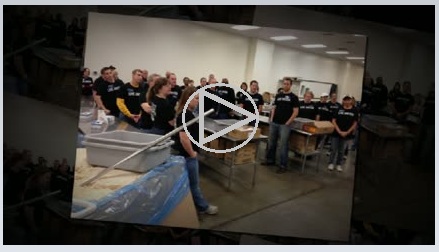 Oct. 10: Shakespeare's Dining Out Day
Whether it was dine-in or carry-out, community members could visit at any Shakespeare's location and 15% of the purchase was donated to the United Way.
Oct. 17: Sweet and Spicy Fall Fling

Thanks to the large group of system employees who braved the rain to attend the Sweet n' Spicy Fall Fling on Wednesday. We raised $470 towards our United Way goal! Employees donated a minimum of $5 to taste different chili recipes and enjoy some wonderful homemade desserts and snacks, and voted for their favorites.
Chili Contest: Ryan Rapp (voted best chili), Jenny Workman (best chili runner up), Tony Hall (best display)
Dessert Contest: Ashley Wilson (voted best overall display) and Lindsey McCall (best dessert runner-up)
Oct. 22-26: Live United Week
A week-long celebration to rally around the campaign and a chance to win great prizes.
Oct. 31: Halloween Dress-up
We encouraged each department to have their own celebration and contribute any donations to the campaign.
Reviewed 2012-11-12.