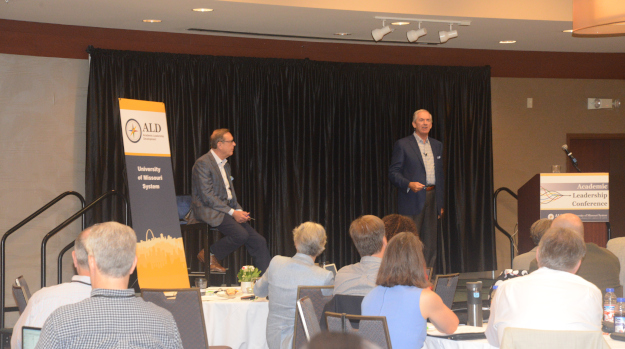 Steve Graham, Senior Associate Vice President for Academic Affairs, sits on stage and watches former UM System President Gary Forsee give the opening keynote at the conference.
COLUMBIA - "In my career…, it was pretty simple really. You learned to respect people — ALL people." This was former University of Missouri System President Gary Forsee's core message in the opening keynote for the inaugural Academic Leadership Conference.
The conference helped launch the Academic Leadership Development program as the first phase of the Faculty and Staff Success initiative announced in September 2018. UM System President Choi allocated $7.5 million to support Faculty and Staff Success as a key strategic investment in his $260 million five-year plan to help the UM System achieve excellence through innovation.
To address the actual experiences and needs of academic leaders, the conference was designed by a systemwide task force and joint collaboration between the Offices of Academic Affairs and Human Resources. Nearly 180 provosts, deans, department chairs and other leaders from all four universities converged in Columbia for the two-day conference. This conference is the first of its kind for the UM System.
The schedule included inspirational keynote addresses about leadership strategy and interactive breakout sessions on a wide range of topics, including navigating internal conflict in a department, managing a daily avalanche of email and finding success in higher education's uncertain funding environment. Attendees also appreciated the professional development opportunities as well as the chance to engage with their colleagues and counterparts from across the system in a collaborative environment.
"It's very important to put names and faces together, especially because we're sharing some of the same resources," said Michael Frisch, incoming Department Chair for Architecture, Urban Planning + Design at UMKC. "I think there's potential for things to improve."
"It takes away some of the competitive feel between the universities," said Sharon Johnson, dean of the School of Social Work at UMSL.
The Academic Leadership Conference is only the beginning of a systemwide effort. The Faculty and Staff Success initiative will continue to focus on providing all levels of faculty and staff with meaningful opportunities to grow and develop their leadership skills.
"President Choi's leadership and investment in faculty and staff success is making a positive impact. It is exciting and rewarding to be part of this important work," said Marsha Fischer, Associate Vice President of Human Resources.
Future programs include workshops at each of the four universities, professional development grants and executive coaching and mentoring programs.
"One of the benefits of a program like this is that it allows our department chairs and deans to share their expertise and experience openly. Some great ideas and advice were shared during the conference and we will continue to focus on the power of networking across our four Universities," said Steve Graham, Senior Associate Vice President for Academic Affairs.
The Faculty and Staff Success initiative will continue to be actively developed throughout the next five years.
Reviewed 2019-09-03