Senior Associate Vice President for Academic Affairs
Steve Graham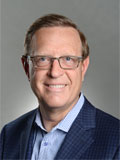 Dr. Steve Graham serves as Senior Associate Vice President for Academic Affairs at the University of Missouri System and provides overall leadership for Academic Affairs issues at the UM System. Dr. Graham's current work includes oversight for the UM eLearning initiative. He serves as a liaison to the Missouri Department of Higher Education and other statewide groups such as the Statewide Chief Academic Officers. Dr. Graham holds the rank of Professor in Educational Leadership and Policy Analysis at the University of Missouri – Columbia (MU). Prior to his current position, he served as an Associate Dean for Graduate Studies and Continuing Education, and Director of Continuing Professional Education on the MU campus. He has over 25 years of experience in higher education as an administrator, professor, and consultant. He has written approximately 70 articles or papers on a variety of topics including leadership development, manager coaching, college outcomes research, adult learning, adult development, professional education, and business training effectiveness. He has conducted numerous research projects evaluating the effects of training in the industry. His most recent book, Academic Quality Work, was co-authored with William Massy and Paula Short.
Dr. Graham earned a bachelor's degree in psychology from Coe College, a master's degree in college personnel and a doctoral degree in higher education administration with an emphasis in organizational behavior from The University of Iowa. He received a number of awards including the 2002 UCEA National Research and Scholarship Award for significant contributions to the literature and professional practice, several UCEA National Outstanding Research Awards, a $10,000 University of Missouri Special Research Award, and the University of Missouri-Columbia Provost's Award for Excellence.
Much of his work has been in the areas of professional education, training and development, academic audit program reviews, and leadership development. For the past 25 years he has consulted with a variety of clients in banking, telecommunications, computing, as well various colleges and universities.
Reviewed 2011-12-07.