Two UMKC professors win UM System President Award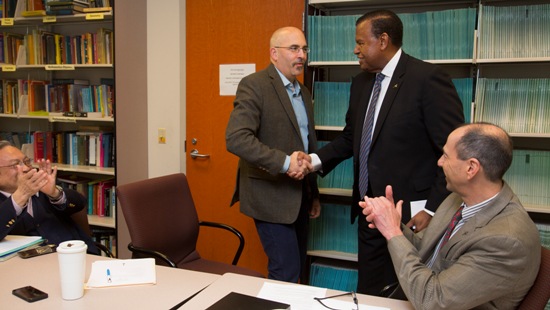 Chancellor Leo E. Morton, second from right, with Daniel H. McIntosh, second from left. Photos by Janet Rogers, courtesy of UMKC Today.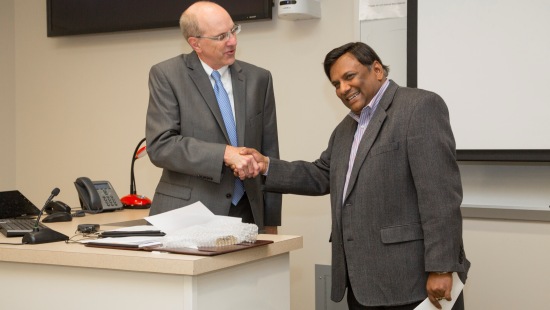 Ashim K. Mitra, right, is recognized for distinguished, career-long sustained excellence.
It's not often — actually ever, according to longtime faculty — that University of Missouri-Kansas City Chancellor Leo E. Morton attends the Department of Physics and Astronomy's Friday morning meeting.
In the conference room, Morton walked over to Daniel H. McIntosh, associate professor of physics and astronomy at UMKC. "Your teaching has created more excitement than the big bang theory," he told McIntosh before delivering the news that he won the University of Missouri System President's Award for Innovative Teaching.
"I knew something was up when I was told to dress nice," McIntosh said. "But thank you. I love teaching."
In a similar stealth move earlier in the week, School of Pharmacy colleagues surprised Ashim K. Mitra, curators' professor of pharmacy, with a President's Award for Sustained Career Excellence.
McIntosh and Mitra were among eight winners of the University of Missouri System President's Awards to be presented to faculty in 2016; each award includes a $5,000 prize. The UM System President's Awards are presented annually to faculty members across the four campuses of the UM System who have made exceptional contributions in advancing the mission of the university. McIntosh and Mitra will be formally recognized by UM System Interim President Michael Middleton during an awards celebration to be held in June.
Share This
About this Story
Campus: UMKC
Key words: Competitiveness, KC Campus, President, Teaching, UM System,
County: Jackson