Every legislative session, the ASUM legislative team advocates for the 75,000 students of the University of Missouri System at the Missouri State Capitol. We do this by writing legislation, testifying in committee hearings, and meeting one-on-one with every member of the Missouri General Assembly.
This year, thanks to the dedication of our student leadership and our seven legislative interns from across the UM System, ASUM was able to pass several of its key legislative priorities into law. This required a coherent strategy, compromise, and building bipartisan coalitions. It also taught us a great deal about the intricacies of the legislative process that will improve our ability to build on this year's wins in the future.
Below is a summary of what we accomplished this session.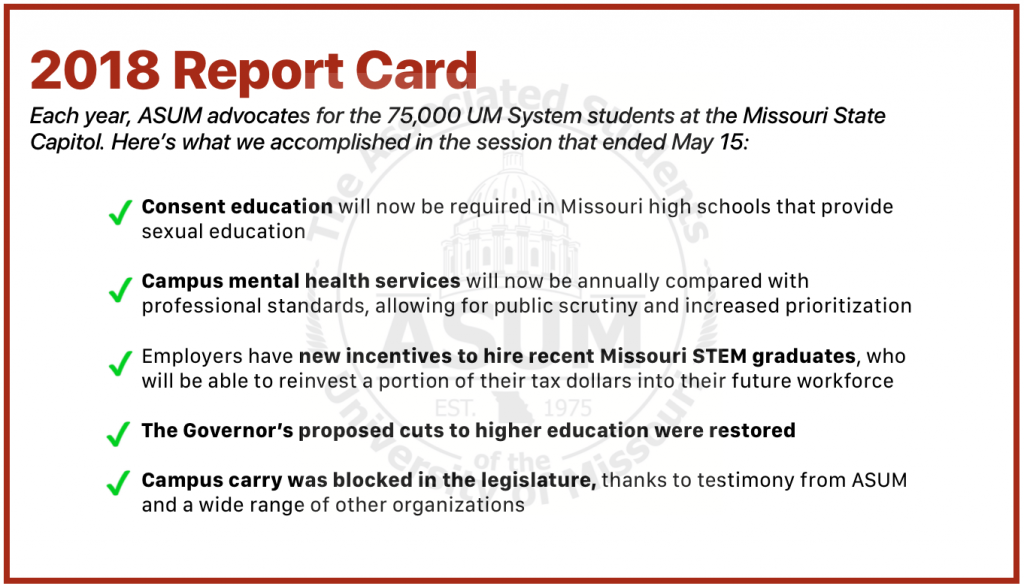 Consent Education. Sexual assault is a pervasive problem on college campuses, and ASUM decided to adopt a platform on this issue for the first time this year. We adopted a proactive approach: By educating students about consent and sexual violence in high school, we can reduce the propensity for mistakes and misunderstandings. We secured sponsorship for our consent education bill in Rep. Holly Rehder (R-Scott) and Sen. Jamilah Nasheed (D-St. Louis), and the bill was passed by the legislature on May 15 and signed into law by Governor Parson on July 13.
Mental Health Services. Another prevalent issue on college campuses is mental health issues. Suicide is the second leading cause of death on college campuses, compared to the tenth leading cause in the general population. Demand for mental health services on campuses is increasing every year, and universities are failing to keep up. This leads to ever-shorter treatment length and longer wait times that can negatively impact student success and educational attainment. Two years ago, ASUM introduced legislation designed to highlight the disparity between where we are and where we need to be. We secured sponsorship for our mental health bill in Rep. Keith Frederick (R-Phelps) and Sen. Jamilah Nasheed (D-St. Louis), and the bill was passed by the legislature on the final day of session, on May 18 and signed into law by Governor Parson on July 9.
STEM Initiative. In 2012, ASUM successfully established the STEM Fund into state law. Any funds placed into the STEM Fund would be re-invested toward scholarship programs for college students pursuing a STEM career and youth experiential programs to expose younger students to the wide variety of STEM fields. STEM fields are experiencing a period of large growth and often pay higher than average salaries, but that sometimes is underexplored due to poor experiences in high school or their more expensive price tags. The STEM Initiative created a path for funds to regularly be used to this end, by enabling companies that hire STEM graduates to re-invest some of their tax dollars directly into the STEM Fund. This will create a continuous stream of funds dedicated to STEM scholarships and youth programs. We secured sponsorship for our STEM bill in Rep. Bart Korman (R- ) and Sen. Jay Wasson (R-Christian), and the bill was passed by the legislature on May 3. Unfortunately, this bill was vetoed by Governor Parson on July 13. ASUM looks forward to continuing its STEM efforts in the 2019 Legislative Session.
Higher Education Funding. For the last few years, funding for higher education has been on the chopping block. This puts pressure on universities to cut costs by cutting waste, reducing services and program quality, and increases the likelihood of steeper increases in tuition. This year was expected to be no different, with Governor Greitens proposing tens of millions in additional cuts to colleges and universities in January. ASUM met with lawmakers to discuss the importance of higher education not only as a private good, but as a public good that benefits all Missourians. While we cannot take full credit for this, we were pleased to see the legislature restore the Governor's proposed cuts in full. There's still a long way to go—funding levels for higher education remain low—but this is a very positive outcome in a year where that was far from anticipated.
Campus Conceal and Carry. Legislation was filed this session that would have enabled individuals to conceal and carry firearms on college campuses, which are currently exempt from conceal and carry laws. ASUM strongly opposed this legislation because we believe it will exacerbate problems relating to sexual violence and mental health issues, and because research suggests that these laws are not associated with enhanced safety. ASUM testified against the bill alongside several other groups, and we're happy to report that this bill stalled midway through session and was not passed by either the Missouri House or Missouri Senate.
Thank you to everyone who made these wins possible over the last several months. Special thanks to former legislative director Chelsea Spence, former assistant legislative director and incoming executive director Natalie Butler, former intern and incoming assistant legislative director Jennifer Mossgraber, former intern and incoming UMKC Chapter President Brandon Henderson, former intern and incoming UMSL Chapter President Adam Rapert, former intern and incoming S&T Chapter Vice President Sean Williams, and former interns Amanda Aiken, Jordan Young, and Gabriela Martinez.
In the months ahead, the new ASUM leadership team will begin to develop a set of new core policy priorities, based in part on the results of our 2018 Student Issues Survey. We look forward to achieving more victories for students in the year ahead. Keep up with our progress here, on Facebook, and on Twitter.
Steven Chaffin, Executive Director
Reviewed 2019-10-14