Across the University of Missouri System, we realize the landscape of higher education is changing and 'business as usual' practices will no longer suffice. By working to create more opportunities and career paths for staff and deliver better and higher levels of administrative services to our constituents, we will be able to invest more in our academic excellence to better serve students, faculty, staff and Missourians through our land-grant mission. Examples of success in administrative realignment are shared here.
---
Click on a header to expand a selection and uncover additional information about each topic.
MU College of Engineering
What follows is a summary provided by MU College of Engineering Dean Elizabeth Loboa and team. Dean Loboa shared this success story during the May 2 Collaborative Design Session.
The University of Missouri College of Engineering recently underwent a series of changes intended to streamline and restructure our administrative structure. We began this process in 2017 and, to date, it has led to several key improvements in the College alongside a few drawbacks and growing pains, all of which will be outlined in this document.
One of the most important steps in this process was improving the efficiency and efficacy of our reporting structure. This helped simplify our chain of command and created several key benefits including:
A reduction in the number of supervisors
Flattening of the organizational structure, which has benefits outlined in the Harvard Business Review article "Hierarchy is Overrated"
Elimination of one-to-one relationships — i.e. supervisors overseeing just one employee
Improved accuracy, increased speed, expanded responsibilities and advanced effectiveness
Fewer layers between employees and management
Centralizing our undergraduate advising operations was another massive shift in our operations. Prior to this restructuring, academic departments handled undergraduate advising, and they all had different methods of handling this task. Bringing all the undergraduate advisers to a central location, reporting to a single director, provided great improvement. Students immediately saw the benefits of the changes, in particular the standardized advising approach across all areas of the College. We also were able to create cost savings by reducing the number of advisers needed from nine to five and an additional half-time employee.
Mizzou Engineering also centralized its financial and administrative support units. We moved these staff into one centralized office, allowing the College to have all fiscal and administrative support in one location.  Working in close proximity and in their specific areas of strength, resulted in our staff being more effective and successful at tasks such as expense reports, one-card transaction reconciliation, financial statements, event coordination, visa processing, graduate student applications, promotion and tenure coordination, etc. Instead of focusing on a broad spectrum of activities in support of a single department, these staff members now focus on fewer activities in support of the entire College.
This process has dramatically increased control of funds, lowered the potential for costly errors, increased efficiency and effectiveness and led to a multitude of additional improvements, including:
Reducing staff touching financials and performing transactions from twelve to four
Decreasing number of staff touching HR transactions from eight to two
Reducing the number of authorized signers
Ensuring no funds leave the College without the dean or director of finance seeing the expense
Standardizing financial statements, which are supplied to department chairs on a monthly basis
Allowing two financial analysts to meet with the chairs monthly to discuss trends and projections
Providing high-level financial statements to all faculty and staff each month
Providing analyses of their accounts (RIF, educational support) to faculty monthly
Standardizing of processes such as graduate student appointments, supply ordering/checkout, course evaluations, and seminar coordination
Centralizing course scheduling to more efficiently utilize space
Utilizing student workers to provide front desk and routine administrative tasks
There are several important items to consider and evaluate before implementation of such streamlining processes.  First are some of the issues and/or drawbacks that may be encountered.  In the College of Engineering's case, these included growing pains — some members of the faculty and staff were unhappy early in the process as the "kinks" were worked out.  In addition, layoffs are always a difficult part of any process, and in this instance, they were unavoidable.
Equally important is knowing how to avoid potential pitfalls and ensure that faculty and staff buy into the new system. Some important aspects to note:
Managing the change process from start to finish is important.
Communication is critical. Meeting face-to-face with as many people as possible helps ensure the message is getting across.Recognizing that no matter how many messages are sent and open forums that are held, some employees will still express a lack of knowledge about the process.
Prior to implementation of centralization, we performed an analysis of all staff members and completed both PCQs and desk audits to determine the best path forward.
Involving affected staff in the planning process as early as possible.
Overall, the streamlining process has been a net positive for the College of Engineering. It has allowed us to become more efficient and to cut costs and needless waste, both in terms of finances and duplication of duties by multiple employees. Streamlining has positioned Mizzou Engineering for the future and has opened us up to the potential for tremendous growth moving forward.
UMSL College of Arts and Sciences
What follows is a summary provided by UMSL College of College of Arts and Sciences Interim Dean Theresa Thiel and team. Interim Dean Thiel shared this success story during the May 2 Collaborative Design Session.
Proximity-based staff reorganization in the College of Arts and Sciences at UMSL
Budget cuts in 2016 led to restructuring of the 30 departmental support staff in the College of Arts and Sciences at UMSL. In order to serve all the departments while decreasing the number of staff positions, we developed a plan in which staff served multiple departments that were in close proximity to each other. The 22 departments/units are spread across the campus, with distances of up to about a mile between the farthest units (see map). Our goal was to ensure that every department had access to at least part of the time of an office support staff and a business support staff. Every unit has at least one staff member in close proximity to the unit, although in many cases these staff are shared. Details are provided on page 2.
The change in organization required a change in reporting structure. While staff once reported to the chair of the unit in which they worked, the business support staff now report to the Business Manager of the college and the office support staff report to the business support staff. The Chairs were reluctant to make this change; however, most of the chairs now appreciate the fact that they are not responsible for managing their staff. The staff still communicate daily with the chairs, but their supervisor is responsible for managing and evaluating them. This has led to more consistent and often higher standards of performance by the staff and more effective evaluations of their performance.
In order to serve multiple units, the staff are cross-trained, providing them with better skills, the ability to provide coverage across the college (if needed), and the possibility of advancement. Regular meetings of the business support staff with the Business Manager of the college provide opportunities for training, dialogue and camaraderie among the staff, which did not happen in the old structure. Overall the staff seem happy with the changes and appreciate the training they have received as part of their responsibilities to serve multiple units.
While most of the outcomes of this restructuring have been positive, one negative consequence is that loss of a staff person impacts multiple departments and we have so few staff that these losses send department chairs into a panic.  We have an office support staff in the dean's office who has on several occasions been moved to temporarily to various departments to help out while hire replacements for staff who leave.
Summary of old and new structures
Old staff structure- 22 departments/units
New staff structure- 22 departments/units

30 staff


Half fiscal, half support
Served single unit

Department focused


Staff reported to Chair
Some staff lacked much supervision or direction
Many Chairs did not provide effective evaluation
Policy was not typically followed, as Chair were not aware of HR policies.
Little cross training among departments
Lack of comradery among staff across departments

20 staff (33% loss of staff)


12 fiscal, 8 support
Serve multiple units

College focused


Fiscal staff report to college
Support staff report to the staff in their unit
Staff receive training, supervision, direction, and constructive evaluation
Effective cross training – staff can and do fill in for each other across departments
Good comradery among staff across departments
HR policies are being followed for staff.
Good communication of staff with Chair (a concern at first)
UMSL campus map with location of units in the College of Arts and Sciences and the staff they share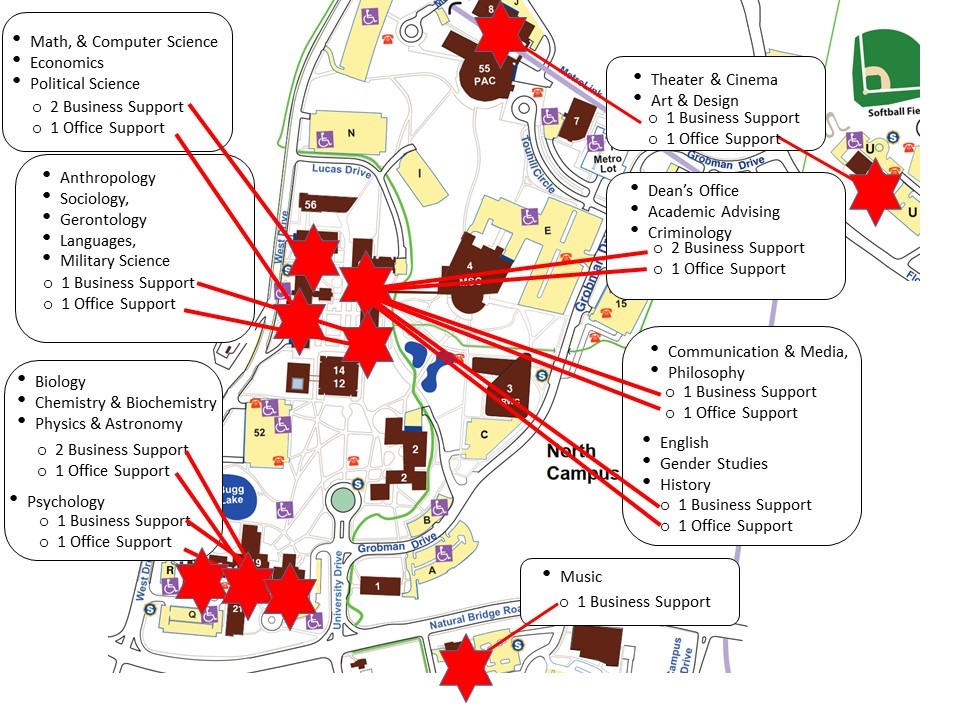 UM System Office of Finance
In July 2018, the University of Missouri System Office of Finance implemented a number of changes to the Travel and Expense (T&E) module within PeopleSoft to improve the user experience. The T&E module is the singular tool for faculty and staff (receiving a university payroll check) across the system to document authorization of travel, obtain a cash advance for travel, and be reimbursed for university business expenses incurred and paid for personally. These improvements will help streamline processing on the front end for Fiscal Year 2019 and beyond.
The changes to the module may seem small, but they're not insignificant.  In addition to increased data accuracy, these changes are expected to reduce the number of clicks needed to the tune of 1.5 million a year.
Each improvement to the module in the list below was a result of analyzing user patterns across the University over the past several months. They're implemented to more accurately reflect how the tools are used by the University community and to serve the University's needs.  This is an example of the University's commitment to improving its administrative services in as many ways as possible.
Auto-populating the payment type field.

The options for payment type have been simplified to two options.
A "payment type" will be automatically selected depending on how a user begins the expense report process. For example, if a user enters a transaction to be reimbursed, the payment type will auto-populate "Cash/Check/Personal Card".

Simplifying business meal reporting requirements.

The Business Meals policy has been updated. A list of individual attendees and titles is no longer required when reporting business meals.
The IRS requires certain documentation related to business meals. This change in policy allows the University to meet necessary requirements while condensing the amount of information users must supply.

Changing hotel expense itemization within the module.

Detailing hotel expenses in the module is no longer necessary, so related fields and the "hotel wizard" tool have been removed, and only an itemized hotel folio is required.
In previous years, an itemized list was required on the expense report itself in addition to the corresponding folio.

Opening the expense line accounting details section automatically.

Instead of requiring users to open an additional section of the module in order to add funding and payment details, this window is open automatically.

Auto-populating the billing type of expense being reported.

The "billing type" field will automatically populate for certain types of expenses, such as utilities and software, saving users a step.

Removing the "reference" field.

Removing this field simplifies the form while still allowing space for users to include information in an expense report's description.

Refining expense type mapping for One Card transactions.

Categories are automatically assigned to One Card based on the details of each transaction. Improvements to how these categories are assigned reduces the numbers of transactions requiring manual changes.
Of course, users will still have the capability to adjust their individual settings in the T&E module and configure their views to suit their specific work style. These updates are based on how most users choose to experience the T&E tools when completing their work. More information about T&E is available on the Accounts Payable Shared Services Travel and Expense webpage.
Reviewed 2019-10-07