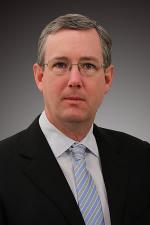 Dr. Christian Lorson received his bachelor's degree in biology from Colorado College, and his doctorate in molecular microbiology and immunology from the University of Missouri. After a post-doc at Tufts University and a faculty position at Arizona State University, Dr. Lorson joined the faculty in the College of Veterinary Medicine at the University of Missouri in 2002. He became a full professor in Veterinary Pathobiology in 2010 and currently serves as the Associate Dean for Research and Graduate Studies in the College of Veterinary Medicine and is an Associate Vice Chancellor for Research at MU. Dr. Lorson served as the Scientific Director at FightSMA and was co-Chair of the Scientific Advisory Committee. Dr. Lorson is a member of the Bond Life Sciences Center, the Research Advisory Committee for the Muscular Dystrophy Association, and the Scientific and Clinical Advisory Group for the SMA Trust (UK). In July 2020, he became director of the UM Spinal Cord Injury/Disease Research Program (SCIDRP) and has been named a Curators' Professor at MU.
Dr. Lorson has received funding from NIH, DOD, MDA, CureSMA, FightSMA, CMT Research Foundation, and several biotechnology and pharmaceutical companies. Dr. Lorson is the co-founder and Chief Scientific Officer of a MU-based start-up company called Shift Pharmaceuticals. Shift has recently received orphan drug designation for their lead compound for SMA, a project that was partially funded by a SCIDRP grant to the Lorson lab. He has published ~115 articles, mostly in the area of neurobiology. He has served on NIH, DOD, MDA, and other grant review panels nationally and internationally.
Dr. Lorson's lab focuses upon neurodegenerative diseases, including the biology behind disease development as well as translational aspects, including drug development, gene therapy, and developing disease-appropriate models. Disease areas of interest include spinal muscular atrophy (SMA), SMA with respiratory distress, Charcot-Marie-Tooth (CMT), and ALS.
Reviewed 2022-11-02