eLearning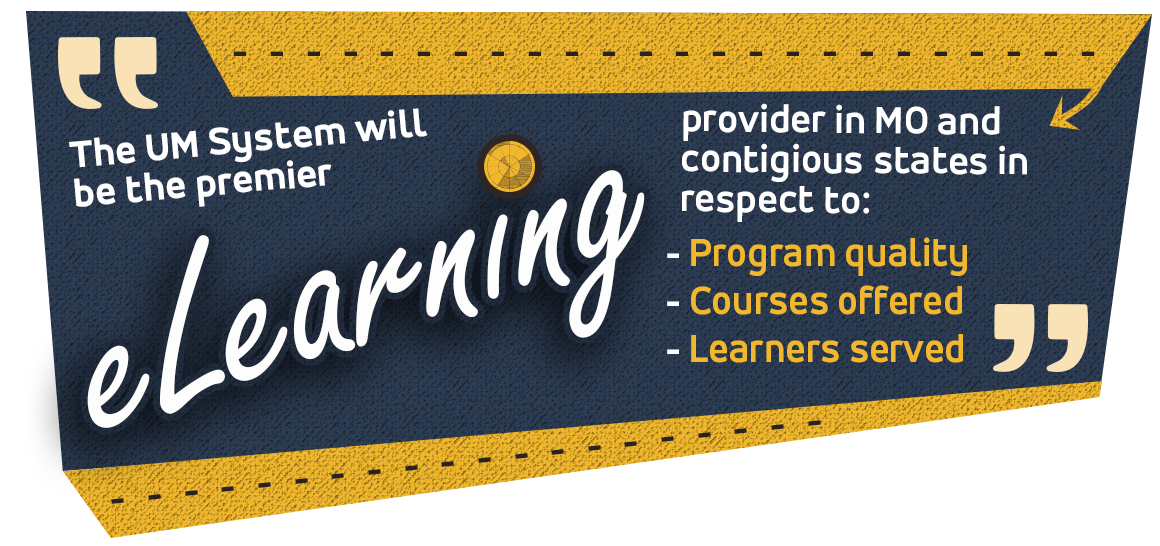 As eLearning evolves, the UM System is dedicated to remaining a leader in eLearning innovation. No two learning experiences are the same and with eLearning, we have the opportunity to serve more students than ever before. With collaboration and technological advances, all four UM System universities have the ability to optimize their eLearning capabilities and build upon them, making the possibilities of learning endless.
As part of its strategic plan, the UM System has made resources available for campuses to collaborate and expand eLearning in order to enhance educational experiences while also increasing efficiencies.
To learn more about the University's eLearning strategy and the eLearning Task Force, review the content below.
---
A Bold eLearning Strategy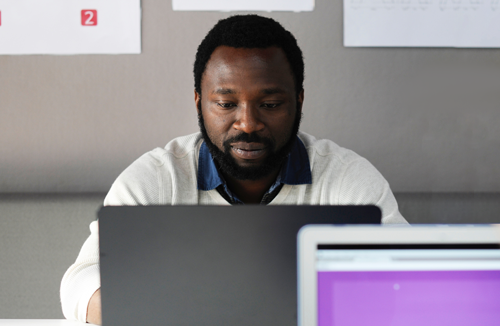 Vision: UM System will be the premier eLearning provider in Missouri and contiguous states in respect to the quality of programs, courses offered and the number of learners served. Our initial focus will be on adult and traditional learners to meet the workforce needs of the state of Missouri and beyond while reaching a goal of at least 25,000 new learners by 2025.
Objectives:
Serve new students including adult learners and traditional students through eLearning.
Design online programs and stackable certificates to meet the workforce needs of the state.
Increase net revenues from online programs to invest in research and teaching missions.
EY-Parthenon Partnership
The UM System has partnered with EY-Parthenon on systemwide strategic planning for eLearning. EY-Parthenon will: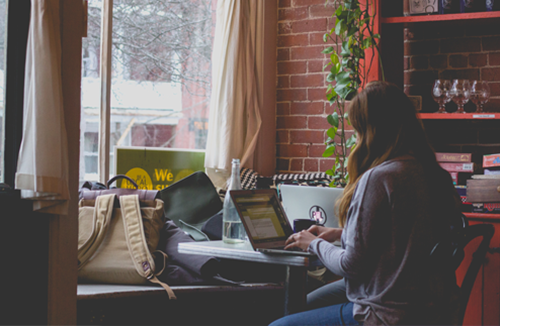 evaluate existing online and distance learning programs to identify strengths and weaknesses and compare key metrics to national best practices;
assess demand for online education within Missouri and the region;
identify opportunities and assess viability for expanding distance and online learning;
evaluate technology platforms; and
develop an operating model, implementation and go-to-market plan.
Project Updates
Regular updates will be provided to the University community as available. Updates are intended to provide a holistic view of the work accomplished to date. The eLearning Overview in the resource section expands upon each of the updates below. This information is not necessarily in chronological order.
MoExcels: The UM System Office of Academic Affairs responded to the Missouri Department of Higher Education's MoExcels Request for Proposals opportunity to develop a model for addressing Missouri's workforce needs through innovative online postsecondary education. This proposal set the conceptual framework for the UM System's eLearning initiative.
Engagement: The eLearning Executive Committee and Task Force began meeting on a regular basis in November 2018. These meetings has provided a forum for the consultants, EY Parthenon, to inform the group of its progress, assessment, and recommendations; and has provided key stakeholders from across our four universities an opportunity to provide input, ask questions, and guide the process as we consider key questions. A Faculty Technical Group was launched in January 2019 the charge to the group and membership are available in the Faculty Technical Team section.

The eLearning Task Force held its first meeting and Haven Ladd of EY Parthenon presented the company's eLearning strategy to the Board of Curators. To review content:

Chief Online Learning Officer: In December 2018 the UM System began its search for a Chief Online Learning Officer. This position will be tasked with overseeing and strategically managing the transformational change required to successfully offer high-quality online degrees. The position description can be found in the eLearning Overview in the resource section.
Internal Assessment: EY Parthenon conducted a comprehensive internal assessment designed to better understand existing eLearning capacity and service level across the program value chain in the areas of course design, marketing, admissions and enrollment management, and pre- and post-matriculation student support. This process involved collection of primary and secondary data, faculty interviews and a faculty survey, and an assessment of alignment with national best practices.
Market Analysis: A survey of prospective students was launched in November 2018 in an effort to quantify the demand for online degree programs within Missouri and surrounding states, to understand the drivers of demand, and to assess the UM System's potential in the market.
Website Launch: This website was launched in January 2019 to provide stakeholders with a one-stop-shop for information regarding the UM System's eLearning efforts.
eLearning Task Force
A committee of 17 representatives including UM System leaders, Board of Curator members, university provosts, administrators and faculty will meet bi-weekly to make progress toward the eLearning vision. The committee includes:
Gary Allen, Vice President for Information Technology, UM System
Barb Bichelmeyer, Provost, UMKC
Mun Choi, President, UM System
Kelvin Erickson, Professor of Electrical and Computer Engineering, Missouri S&T
Dale Fitch, Associate Professor and Director, School of Social Work, MU
Steve Graham, Senior Associate Vice President for Academic Affairs, UM System
Christine Holt, Chief of Staff, UM System
Robert Marley, Provost, S&T
Carrie Nicholson, Research Consultant II and Project Manager, UM System
John Phillips, Curator, Board of Curators
Latha Ramchand, Provost, MU
Ryan Rapp, Vice President for Finance and Chief Financial Officer, UM System
Amber Reinhart, Faculty Fellow and Associate Chair of Communication, UMSL
Kristin Sobolik, Provost, UMSL
David Steelman, Curator, Board of Curators
Ajay Vinze, Dean of the College of Business, MU
Marilyn Yoder, Associate Professor and Division Head, School of Biological Sciences, UMKC
Faculty Technical Team
The Faculty Technical Team is a component of the UM eLearning initiative and implementation. The team includes faculty members with significant experience teaching in an online format as well as those with active research interests in the area. Together, these faculty members work toward determining innovative ways to achieve the scale desired in UM's vision for our eLearning initiative. In the future, the eLearning Task Force and team will continue to seek faculty who are influential and have credibility with their colleagues so they might help us engage other faculty and ensure our University maintains quality programs. Members of the Faculty Technical Team include:
University of Missouri-Columbia
Heather Hunt (Bioengineering)
Rose Marra (Education)
Bethany Stone (Biological Sciences)
University of Missouri-Kansas City
Amanda Grimes (Nursing)
Leigh Salzseider (Business-Finance)
Kati Toivanen (Art)
Missouri University of Science and Technology
David Enke (Engineering Management)
Keng Siau (Business and IT)
Klaus Woelk (Chemistry)
University of Missouri-St. Louis
Beth Huebner (Criminology and Criminal Justice)
Haitao Li (Supply Chain and Analytics)
Amber Reinhart (Communications)
Jennifer Reynolds-Moehrle (Accounting)
UM System
Steve Graham
Carrie Nicholson
---
Support Resources
For support or additional information about the UM System eLearning initiative, please reach out to:
For additional information and support, feel free to reach out to members of the Faculty Technical Team, listed above.
Reviewed 2019-04-11.