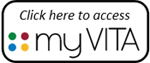 ---
Help Contacts
If you are experiencing issues with logging in, browsers, printing, or some feature of the system is not working properly, contact your campus help desk.

MU – 573-882-5000
UMKC – 816-235-2000
S&T – 573-341-4357
UMSL – 314-516-6034

If you have questions about entering your activities or information, which category to use for a specific activity, etc., contact the myVITA Support Team for assistance.
What's New?
Follow our progress on Twitter @myVITA_UM
Latest Tweets
Correcting HR Information
If you notice errors in the locked fields in Personal Information, Contact Information, and Current University Position sections of the Profile Form, this information can be changed. Once processed in HR, updates to this section of myVITA will be updated within two business days.
If you want to correct your home or cell phone numbers, you can change this setting in myHR "Personal Info" and "Employee Data." Click here to access myHR.
If other information needs to be corrected (such as name, title, etc.) Human Resources on your campus can assist you in correcting it.
MU
To request changes, contact your department HR representative.
UMKC
Changes must be processed by your department's Human Resources Facilitator.
S&T
To request changes, contact your university HR department at (573) 341-4241 or by email: hrsinfo@mst.edu.
UMSL
Changes must be made by your department HR administrator or by contacting your university HR department at (314) 516-5805.
UM System
To request changes, contact Francie Martin, phone (573) 884-7913.
Reviewed March 01, 2016.