There is a retirees association affiliated with each UM System university and all work to serve the interests of their retiree communities and actively promote the welfare of their institution. Associations offer membership options for retirees and some may extend invitations to pre-retirees, spouses and partners, as well as for retirees from other campuses. Select your university below to learn more about the affiliated retirees association.
UM Retirees Association Offerings
Retirees association offerings include:
Advocacy for retirees
University town halls on health care benefits and pensions
Social programs and events
Volunteer opportunities
Educational programs and other learning opportunities
Organizational meetings
Communications with university news
And more!
---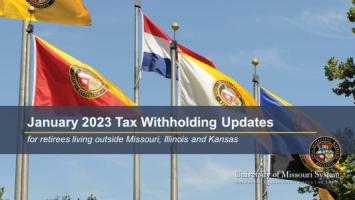 January 2023 Tax Withholding Update
Beginning January 2023, the university will withhold and remit state taxes for retirees who live outside of Missouri, Illinois and Kansas to comply with state tax rules.
The university will withhold taxes based on the home address on record, so please, ensure your home address in our system is accurate: If you have access to MyHR
Log into MyHR 
Select the "My Personal Details" tile
Choose "Addresses" from the left menu at the top
In mid-December, you will receive a letter that will show your home address in the University files. This home address will serve as your taxing address. The letter will also include a state form W-4P (State tax withholding form) for you to complete and return to the University. If the home address is not correct, update your address in myHR or contact the HR Service Center to request a change of address form. Please fill out and return it if you:
Live in AR, CA, CT, GA, IA, KS, ME, MA, MI, NE, NC, OK, OR, VT or VA and you DO NOT want state taxes withheld at the state's default rate. These states automatically withhold taxes on pension income.
Live in AL, AZ, CO, DE, DC, ID, IL, IN, KY, LA, MD, MN, MO, MS, MT, NJ, NM, NY, ND, OH, PA, RI, SC, UT, WV or WI and you DO want state taxes withheld from your pension payment. These states tax pension income, but do not automatically withhold any taxes.
The following states don't currently tax pensions an no action needs to be taken if you live in AK, FL, HI, NV, NH, SD, TN, TX, WA, WY. 
Changes will be effective for the 2023 tax year.
Instructions for updating personal information in myHR is available in the Payroll and Compensation Training Guide (PDF, pg. 8). 
For questions, please visit the AskHR Portal, or contact the HR Service Center at (573) 882-2146, (800) 488-5288 or via email. 
 
---
Fall 2022 Retiree Town Hall
Our fall virtual town hall focused on university health insurance benefits for retirees (umurl.us/retireeben) for the 2023 calendar year. UM System benefits experts and representatives from the university's insurance vendors answered questions about medical insurance (both Medicare-eligible and non-Medicare eligible), as well as dental and vision benefits.
Trouble viewing the video? Click here to view on YouTube.
Question and Answer
Annual Enrollment Process
How do I enroll if I don't have access to internet during the Annual Enrollment period?
You may choose to complete the 2023 Annual Enrollment Retiree Benefits Change Form (PDF) and return it to the HR Service Center via email, email or fax by November 4, 2022. You can visit the HR Service Center in-person, or your campus HR team can help you access the form if you don't have an internet connection. If you'll be unable to complete paperwork during the Annual Enrollment period, feel free to complete and submit your change before the Annual Enrollment period begins. You'll need to connect with your HR team to get access to and submit the necessary form.
What if I am out of the country during the enrollment period with no secure internet connection?
If you will be out of the country during the Annual Enrollment period, you can complete and submit the change paperwork (PDF) before leaving the country, even if that means submitting it before the Annual Enrollment period begins.
I turn 65 next year. When should I contact the Benefits office about moving from non-Medicare coverage to a Medicare Advantage and what is the process?
In order to transition to the University Medicare Advantage Plan, apply for Medicare no earlier than three months before your eligibility date. The application process can be completed through your local Social Security office or online. University Medicare Advantage plans include enrollment in an eligible Part D prescription plan, so only enroll in Medicare Part A and Medicare Part B.
As you approach your enrollment date, the university will only send you information regarding Medicare Advantage plan enrollment. That packet will include an enrollment form you will need to return to us, along with a copy of your Medicare card. You can get more details on the Medicare website.
I want to cancel life insurance for my spouse and/or myself. What do I need to do and by when?
You can cancel life insurance coverage at any point. In fact, you may reduce or cancel any coverage, including medical, at any time during the year and are not limited to retiree Annual Enrollment. If coverage is reduced or cancelled, it cannot be reinstated at a later date. To do so, just complete the Retiree Benefits Change Form (PDF).
If I drop down from the buy up plan to the basic plan, would I be able to go back to the buy up plan again next year?
Yes, you would have the option of selecting the Medicare Advantage Enhanced Plan (Buy-Up Plan) again in the future, but only during the Annual Enrollment period.
If a non-Medicare eligible spouse turns 65 mid-year, i.e., in June, how does that affect premiums?
Premiums will be adjusted based on which Medicare Advantage plan is selected, Base or Enhanced (Buy-Up Plan). The HR Service Center can help determine what your new premium will be upon turning age 65.
General Medical Plan Coverage
What types of facilities are in-network with UnitedHealthcare?
You can review all in-network providers through the UnitedHealthcare find a provider tool.
When will I receive information on my premiums for 2023?
All retirees will receive a letter from the university to their mailing address that provides information on the plans available to them as well as their personalized premiums and additional information on the Annual Enrollment period.
Do retirees call the HR Service Center or UnitedHealthcare for benefits questions?
Retirees can call the HR Service Center for information about the Annual Enrollment period or plan eligibility. For information on specific health plans offered by UnitedHealthcare, retirees can reach out to UnitedHealthcare directly using the customer service phone number on the back of their insurance card.
Why does the university make changes to plans each year?
The landscape of health insurance is constantly changing. Each year, the university evaluates plans and works with our providers as well as the Total Rewards Advisory Committee (TRAC) and the UM System Office of Finance to keep premium increases lower than they otherwise would be. In addition, we conduct regular, competitive bids to ensure we're providing high-quality plans at manageable costs.
How are "self coverage" and "family coverage" different between the two non-Medicare plans?
Family coverage encompasses any employee enrolled in the benefit plan who has at least one dependent covered on the plan as well: i.e., "self and spouse," "self and child(ren)" and "self, spouse, and child(ren)" categories. The difference lies in how the deductible works for family coverage, since it's different between the Retiree Healthy Savings Plan and the Retiree PPO Plan.
For the Retiree Healthy Savings Plan, only the individual or family deductible must be satisfied based on self or family coverage. For the Retiree PPO Plan, individual deductibles must be satisfied for all individuals covered until the family deductible is met. Expenses that are included in the deductible vary by plan.
Why are my premiums increasing and will they continue to do so?
Premiums are dependent on many factors, including age, years of service at retirement and more. For 2023, some retirees will see lower premiums than they did in 2022 because the cost of their program changed. For others, they may see an increase in premiums as the university works to align premiums and actual plan costs. Recognizing the market is likely to continue to evolve and mature, the university continues to monitor and explore opportunities to improve choice and reduce costs for current (as well as future) pre-Medicare-eligible UM retirees.
Does it matter where I live with my coverage, for in-network?
The UnitedHealthcare Medicare Advantage Plans are PPO plans, which means it includes a broad network and you have lots of flexibility in choosing a provider. Learn more about in-network providers near you through UnitedHealthcare's find a provider tool.
What is the difference between university's Medicare Advantage Plan options and commercially-available Medicare Advantage Plans?
The University of Missouri retiree plan is customized specifically for retirees and include significantly enhanced benefits over the "street" plans that all beneficiaries have access to.
Do Medicare retirees have any health care insurance coverage when traveling outside of the country?
Members have worldwide coverage for medical services through both University of Missouri Medicare Advantage options. You will need to pay for the services you receive and then submit for reimbursement. You can obtain a Direct Member Reimbursement Form by contacting the United Healthcare customer service. The applicable copays depending on the plan you are on will be deducted from your reimbursement.
Non-Medicare Coverage
Does UnitedHealthcare have differing arrangements with providers from one clinic to the next and how can non-Medicare retirees identify the best value across providers?
The cost of care is dependent on provider, the services provided and may also vary based on how the services are billed by the provider. UnitedHealthcare can help you check cost estimates before you choose where to get care so you can save on health care costs. Sign in on myuhc.com to get personalized cost estimated and see how much you can expect to pay for your specific plan and specific in-network providers.
What are the medical plan design changes to the non-Medicare retiree plans in 2023?
Changes to Retiree Health PPO Plan

Increase individual deductible from $700 to $1,000; family deductible from $1,700 to $2,500
Increase Out-of-Pocket max from $3,400 to $4,000 for individual and $6,800 to $8,000 for family

Changes to Retiree Healthy Savings Account

Increase individual deductible from $1,750 to $1,875; family deductible from $3,500 to $3,750
Increase out of pocket maximum to IRS limit $3,500 to $3,750 for individual and $7,000 to $7,500 for family
Increase coinsurance from 15% to 20%
Medicare Coverage
What travel coverage is offered through Medicare when traveling internationally?
Both the Medicare Base and Enhanced plans include a $200,000 lifetime maximum travel benefit for any non-emergent medical expenses incurred outside of the United States. Medical evacuation is covered under the plan. Urgent Care and Emergency Room services are already covered worldwide and fall under the existing medical benefit.
Does retiree medical insurance function as a Medicare Advantage plan?
Both university-sponsored Medicare plans are Medicare Advantage plans.
I turn 65 in March. Will I receive a new UnitedHealthcare insurance card with the Medicare box on it?
Before you turn 65, the university will send you a packet in the mail with information regarding Medicare Advantage plan enrollment. The packet will include an enrollment form and you will need to return the completed form along with a copy of your Medicare card. When processed, your enrollment will change to your selected Medicare plan and you'll receive a new UnitedHealthcare insurance card in the mail. You can get more information about receiving your Medicare card on the Medicare website.
How can we find out the difference in cost between the Medicare Base and Enhanced options?
To learn more about the differences between the Base Plan and the Enhanced Plan, visit the UHC Coverage and Benefits webpage.
Should I still use UnitedHealthcare HouseCalls if I am seeing my physician regularly?
Yes! HouseCalls—UnitedHealthcare's yearly in-home health and wellness service—is a health plan feature for Medicare and Medicaid members, offered at no additional cost. It's can help members stay on top of their health between regular doctor visits.
What is UHC doing with the information and data they collect on us?
You can learn about UnitedHealthcare's privacy practices and your rights as a plan member in the Annual Member Notice.
Will Renew Active continue to be offered to Medicare-eligible retirees?
Yes. You can learn more about Renew Active on UHC's website.
Prescription
CMS announced a $35 per month cap on insulin for 2023. Is the $35 per month cap per prescription or for multiple prescriptions combined?
The $35 cap on insulin is for all Part D covered insulin and is applied per prescription per month.
Is there no maximum out of pocket cost for families or for dependents for pharmacy for drug coverage?
For Medicare retirees the prescription drug out-of-pocket maximum is $4,130 per member. For Non-Medicare retirees in the PPO plan, there is not an out-of-pocket maximum for prescription drugs, co-pays apply. Non-Medicare retirees in the Healthy Savings Plan have a maximum out-of-pocket cost of $3,750 individual or $7,500 for medical and prescription combined.
How are durable medical goods covered like insulin pump supplies?
For Medicare retirees when using one of the approved meters and supplies, your cost-share is a $0 copay. To switch to one of the preferred brands, you may be required to get a new prescription from your doctor.
For non-Medicare retirees in the Retiree Health PPO Plan members may obtain diabetic durable medical equipment through their medical insurance at no cost. For non-Medicare retirees in the Healthy Savings Plan, members will be subject to the applicable plan deductible and co-insurance costs.
Why does my 30-day supply of a generic drug cost more than if I bought directly from a commercial pharmacy?
The cost of prescriptions is typically determined by the manufacturer of the prescriptions. To help keep prescription prices as low as possible for the university and plan members, UnitedHealthcare negotiates guaranteed discounts with retail pharmacies and provides discounts through their own mail order process.
How do copays compare for the Medicare Advantage plans?
Coinsurance costs are the same for both plans and depend on the Tier of the prescription:
| Tier | Prescription drug type | Your cost: Retail (31 day supply) | Your cost: OptumRx Home Delivery (90 day supply) |
| --- | --- | --- | --- |
| Tier 1 | Preferred Generic (all covered generic drugs) | 20% coinsurance ($7 minimum) | 20% coinsurance ($15 minimum) |
| Tier 2 | Preferred Brand (many common brand-name drugs, called preferred brands) | 20% coinsurance ($15 minimum) | 20% coinsurance ($30 minimum) |
| Tier 3 | Non-preferred Drug (non-preferred brand-name drugs and Part D-eligible compound medications) | 50% coinsurance ($30 minimum) | 50% coinsurance ($60 minimum) |
| Tier 4 | Specialty Tier (unique and/or very-high-cost brand-name drugs) | 25% coinsurance | 25% coinsurance |
Are shingles vaccines supposed to be free? Does that include the newer, two-dose vaccine?
UnitedHealthcare includes Shingrix® vaccination as a covered preventive service benefit for adults age 50 and over with network coverage at no cost share. Shingrix® is paid as a preventive under the medical benefit, not the pharmacy benefit.
If you don't take medicine on a regular basis, what would the cost be for the generic vs. brand name?
That depends on the specific medication. You can get additional information on UHC's prescription coverage or, to look up what medications are covered by your plan and which Tier they fall under on UnitedHealthcare's prescription drug lookup webpage.
Dental, Vision and Hearing
How do we find out which hearing aid companies are covered under the health insurance plans?
Medicare retirees
Non-Medicare retirees
If I cancel vision coverage, can I enroll in vision coverage in a future year?
Yes, our current vision plan allows retirees to add or drop vision coverage each year during Annual Enrollment.
If a retiree didn't select dental coverage upon retirement, can it be added during Annual Enrollment?
No, dental coverage for retirees is based on enrollment and election upon date of retirement.
---
Other Resources
Click on a header to expand the selection and uncover additional information.
Past UM Retiree Events
UM Connection
UM Connection is produced quarterly for the retirees of the four-campus University of Missouri System. The publication is a partnership between the Office of Engagement, the Office of Human Resources and the UM Retirees Association Leaders.
Reviewed 2022-12-05