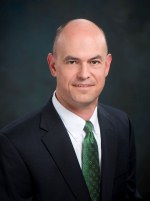 Tom Richards currently serves as Chief Investment Officer, responsible for the management of nearly $9 billion in total investment exposures across the University's retirement, endowment and general operating funds.
Richards had also served concurrently as Treasurer through September 2019, providing operating leadership and strategic direction for the University's cash management, debt and banking relationships across all four campuses and the health care system. Prior to his appointment as Treasurer by the Board of Curators in January 2011, Richards was responsible for the University's financial reporting and taxation matters as well as all accounting for the treasury function.
In 2018, Richards was named a Top 30 Endowment Chief Investment Officer by Trusted Insight, an industry trade publication.  Richards received the 2013 Rising Star Award from the National Association of College and University Business Officers (NACUBO). The award is given to up-and- coming leaders in higher education in the areas of finance, administration, and business who are known for their innovative, meaningful contributions to the improvement of their profession and to the efficiency of their institution.
A veteran of more than 25 years of experience in the financial sector, Richards previously served as chief financial officer of a large multi-state community banking organization headquartered in Columbia, Missouri.  Prior to that time, Richards was an audit manager in the financial services practice of PricewaterhouseCoopers in Indianapolis.  Richards earned a bachelor's degree from the University of Michigan and is a certified public accountant.
An active member of the community, Richards currently serves as a Board Trustee for Stephens College, a member of the board finance committee for Columbia Public Schools, and a member of the Airport Advisory Board for the City of Columbia.  Mr. Richards's wife, Melissa Lawson, MD, is an Associate Professor of Child Health in the School of Medicine at the University of Missouri – Columbia.
Reviewed 2020-01-06