University of Missouri-Columbia professor awarded President's Award for Economic Development
April 15, 2015
Award recognizes faculty for distinguished activity in meeting the University of Missouri's goal of serving as an economic engine for the state
COLUMBIA, Mo. – University of Missouri System Senior Associate Vice President for Academic Affairs Steve Graham today awarded the fourth of ten UM System President's Awards to be presented to faculty in 2015 to David Patterson, professor of animal sciences at the University of Missouri-Columbia.
Graham — in front of faculty and students gathered for a graduate seminar — surprised Patterson with the President's Award for Economic Development, which includes a $5,000 award. The award recognizes faculty for distinguished activity in meeting the University of Missouri's goal of serving as an economic engine for the state through entrepreneurial innovation.
Patterson joined the Division of Animal Sciences at MU in 1996 where, early in his academic career, he recognized an opportunity for Missouri beef producers to improve the quality of their herds through improving the herds' replacement females. A focus of his research was to develop breeding systems that would expand use of artificial insemination to lead to improved herd genetics. Although artificial insemination is known to result in better genetics, only 10 percent of cows in the U.S. are artificially inseminated. Herd owners cite lack of time and labor as the biggest obstacles. Patterson developed methods to synchronize the reproductive cycles in cattle so that all of the heifers or cows in a herd could be artificially inseminated in one day.
As Patterson developed these methods in the 1990s, he ran experiments with the cow herd at the MU Thompson Research Center. Once the research was demonstrated to work effectively, Patterson developed the Show-Me-Select Replacement Heifer Program where he worked with regional extension livestock specialists, herd owners and their veterinarians across Missouri to transfer the technology to the field.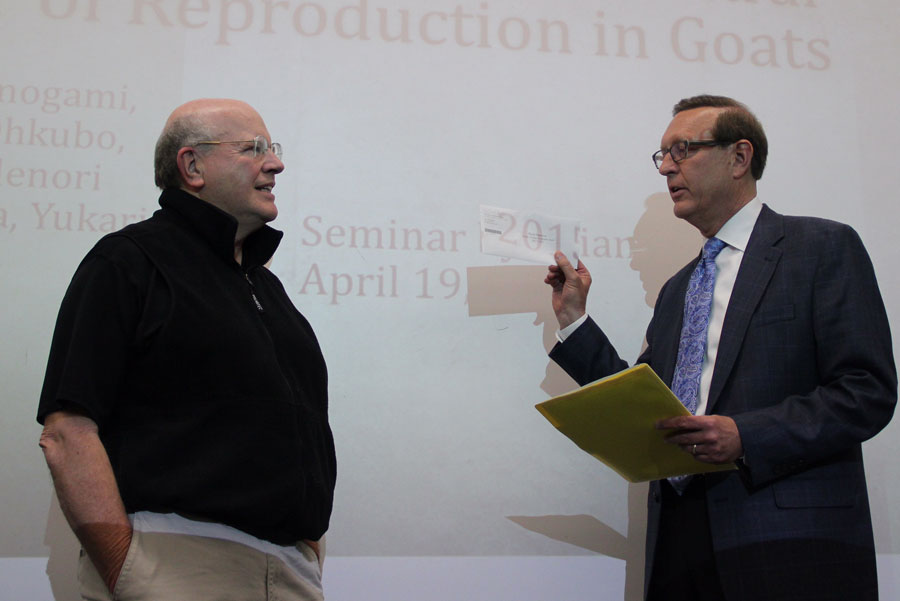 Professor David Patterson receives the President's Award for Economic Development from Senior Associate Vice President for Academic Affairs Steve Graham.
Since 1997, more than 116,000 heifers have been enrolled in the Show-Me-Select program from 776 farms across Missouri, and the program's estimated contribution to Missouri's economy has exceeded $100 million. In addition, Patterson has garnered more than $7.7 million in grants and contracts to support his work at MU.
From his Show-Me-Select efforts grew Quality Beef By The Numbers, a program that improves profitability of beef cow-calf operations by facilitating the adoption of applied reproductive and genetic technologies that will add value to beef cattle to meet increasing domestic and global demand for high-quality beef.
"Seldom does one see new technology that was developed just three to five years ago become the mainstream for use in cattle producers. This has happened with the research and leadership of Dr. David Patterson. His integrity and sincere drive to find solutions to high priority problems is unparalleled. He leads the industry in reproduction and heifer development and his programs are being modeled throughout the United States," wrote one nominator.
The UM System President's Awards are presented annually to faculty members across the four campuses of the UM System who have made exceptional contributions in advancing the mission of the university. Patterson will be formally recognized by UM System President Tim Wolfe during an awards celebration to be held June 25.
Sections
Can't find what you are looking for?

Search umsystem.edu: