Long Title
UM System appoints nationally recognized scholar, researcher and administrator as executive vice president for academic affairs
University of Missouri System President Tim Wolfe today announced the appointment of Henry C. "Hank" Foley as executive vice president for academic affairs for the UM System.  Foley currently serves as vice president for research and dean of the graduate school at The Pennsylvania State University.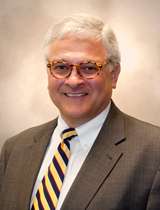 "Dr. Foley brings the experience and vision needed to provide the transformational leadership that will grow our university's academic and research expertise," Wolfe said.  "This new addition to our leadership team will help our campuses keep pace with the changing dynamics of higher education, better serve constituencies on our four campuses and enhance operational efficiencies systemwide."
In January, Wolfe announced both a reorganization plan to align system administration with the strategic direction of the campuses and a search for a new vice president of academic affairs. 
"Our diverse search committee, chaired by Chancellor Tom George, provided representation and input from each of the four campuses and system," Wolfe said. "I want to thank each member for their work to bring such a qualified candidate to our university."
In his new role, Foley will work with a variety of campus leaders, including the campus chancellors, provosts and chief research and economic development officers.  As executive vice president, he will lead the system's strategic planning efforts, provide systemwide leadership in academic programs, promote economic development, advance research collaborations and enhance funding, as well as lead the institutional research, student access and success, academic program review and eLearning functions of the system.  The appointment is subject to approval by the University of Missouri Board of Curators and has a starting salary of $350,000. 
In addition to currently serving as vice president for research, Foley is the president of the Penn State Research Foundation and the Penn State Research Park Management Corporation.  
Originally from Providence, R.I., Foley earned a master's degree in chemistry from Purdue University and a doctorate in physical and inorganic chemistry from Penn State.   Foley served on the University of Delaware chemical engineering faculty for 14 years before returning to Penn State in 2000.   In his tenure at Penn State, Foley has served in the roles of named chair, department head, associate vice president for research and director of strategic initiatives, and dean of the College of Information Sciences and Technology.   He has extensive industry experience, including working for American Cyanamid and consulting with companies such as Westvaco, Air Products, Monsanto, DuPont and Engelhard Corporation.
Henry Foley photo (Courtesy of Penn State):  http://umurl.us/5pWJ
Henry Foley curriculum vitae (PDF):  http://umurl.us/EIYg2
Reviewed 2013-06-11