COLUMBIA, Mo. – Members of The Missouri 100, an advisory group to the University of Missouri System president, recently made a $5,000 donation to the University of Missouri's Brady and Anne Deaton Institute for University Leadership in International Development.  The contribution, awarded at the organization's annual fall meeting, was to acknowledge Chancellor Brady Deaton for his service to the university and show support for his next chapter.
"The Missouri 100 wanted to recognize Brady for all he has done for Mizzou during the past 24 years," Missouri 100 Tri-chair Dudley McCarter said. "Knowing his passion for international collaboration in higher education and his interest in global issues involving food production, economic challenges and environmental concerns, we thought that a donation to the new Institute would be the best way to honor and thank him for his dedication to higher education in Missouri."
Having served many roles at MU including professor, chair, chief of staff, deputy chancellor, and provost, Deaton is set to retire as chancellor Nov. 15, 2013, but will continue employment at the university as the executive director of the institute. 
"I am so grateful for the support of the Brady and Anne Deaton Institute demonstrated by The Missouri 100. What a total and delightful surprise this was," Deaton said. "Their financial commitment is important both symbolically and materially. We pledge our efforts to honor their trust by building a program of merit and relevance to the mission of the university."
Members of The Missouri 100 advise and assist the president in promoting the critical role of the University of Missouri System in our state's future and its reputation around the world. The organization serves as a strong advocate for public policies and programs that promote the university's goals of excellence in teaching, world-class research, service to all our citizens, and stimulation of an entrepreneurial community.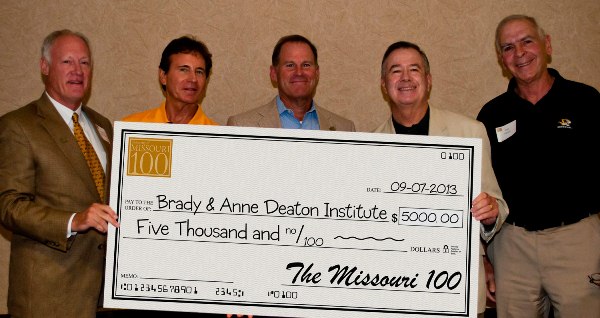 (Photo Left to Right) Tri-chair Dudley McCarter, Tri-chair Richard Miller, UM System President Tim Wolfe, MU Chancellor Brady Deaton, Tri-chair Tom Turner
                                                                                                ###
Reviewed 2013-09-10