Currently serving as interim chancellor and provost, Sobolik is a student-centric leader focused on individual and institutional success
COLUMBIA, Mo. — University of Missouri System President Mun Choi today announced the appointment of Kristin Sobolik as the next chancellor of the University of Missouri-St. Louis. Sobolik has been serving as interim chancellor while also maintaining her position as executive vice chancellor for academic affairs and provost. The appointment is effective immediately.
"Following a national search, Kristin Sobolik clearly rose to the top, and we are excited that she will continue to lead UMSL," Choi said. "Dr. Sobolik has a track record of supporting student success, growing research, and building connections with St. Louis leaders and alumni. I am confident that she is the right leader for UMSL during this critical time."
The UM Board of Curators approved Sobolik's appointment today with a unanimous vote.
"Dr. Sobolik is clearly the right leader for UMSL," UM Board of Curators Chair Julia Brncic said. "She has proven her ability to lead by achieving results, being proactive, and developing strong relationships with students, faculty, staff and friends of UMSL.  Kristin will ensure UMSL's continued commitment to serving the needs of the St. Louis region and the state. We are very fortunate to have the opportunity for her to serve in this role."
As interim chancellor, provost and professor of anthropology, Sobolik has collaborated with her leadership team, faculty and staff to advance students' aspirations and prepare them to meet 21st century challenges. She has been responsible for the academic mission of the university, working with the colleges, deans and faculty on curricular development, innovation and student success. She also oversees research and graduate studies. Notably, research expenditures have increased 55% since her appointment as provost.
"Dr. Sobolik is an accomplished educator, scholar and administrator who brings a renewed focus on teaching, research and creative works to the university," said Beth Huebner, co-chair of the search committee and professor of criminology and criminal justice. "She understands UMSL's responsibility as the only public research university in eastern Missouri to initiate and support innovative research and scholarship."
During her tenure at UMSL, Sobolik has led the development and implementation of the Strategic Plan 2018-2023 with specific goals and actions focused on student success, research growth, community and economic development, diversity and inclusion, and sustainable administrative functions. She also led a successful reaccreditation by the Higher Learning Commission resulting in reaffirmation of UMSL's accreditation for 10 years.
"My driving passion to serve our students started three years ago when I fell in love with UMSL on my very first visit," Sobolik said. "With each passing day, my commitment has grown to help these students succeed to graduation and design a better life for themselves and their families. I am so honored to lead this wonderful, dynamic institution that plays a crucial role in the St. Louis region."
Sobolik has introduced new academic programs in areas of growth, strength and excellence such as computing technology, cybersecurity, international relations, actuarial science degree and entrepreneurship. Further, she implemented an ongoing curricular process to align course offerings to student learning outcomes to increase student success, decrease time to degree and student debt, provide clear assessment guidelines, and align with the 5-year financial plan.
Additional highlights of Sobolik's tenure include establishing the Community Innovation and Action Center, engaging UMSL's executive leadership team in the USC Equity Institute, and launching the Student Academic Support Services unit to support student learning, which includes the new University Tutoring Center, Multicultural Student Services, Pre-collegiate Programs, and Student Enrichment and Achievement.
"Over the past three years, Dr. Sobolik has worked intentionally and with care to expand the university's engagement, not just in the St. Louis region, but also with alumni and supporters across the nation," said Kirk Richter, co-chair of the search committee and member of both the Chancellor's Council and Alumni Board. "I am confident that she will continue to expand UMSL's reach and build partnerships to ensure the university's growth."  
At UMSL and previous institutions, Sobolik has achieved results as a fundraiser with donors, alumni and legislators. A notable donor relationship she cultivated was with actor Tom Hanks, a friend of Wright State University in Dayton, Ohio, where she served as the dean of the College of Liberal Arts. Sobolik oversaw the $30 million modernization and expansion of the Creative Arts Center, which included the dedication of the new Tom Hanks Center for Motion Pictures, new art galleries and studios for theater and dance, as well as the School of Music. As dean, Sobolik was a key leader in the university's comprehensive campaign and oversaw more than $20 million in donor gifts to the college for scholarships, capital improvements and programs.
"Kristin is strategic, poised and capable of leading UMSL as it strengthens its ties with businesses and civic organizations in the St. Louis area," Choi said. "Something that I particularly admire about her is that she has a student-centric approach and mindset. She is approachable and accessible to students as well as faculty, staff, alumni and community leaders."
As an interdisciplinary scholar, Sobolik is a leader and helped develop the fields of archaeobiology and paleonutrition with over 100 publications, books and presentations. She earned a bachelor's degree in biology from the University of Iowa and a master's and doctorate in anthropology from Texas A&M University.
 Prior to her service at UMSL and Wright State, Sobolik was professor of anthropology and climate change at the University of Maine. She served as associate dean for research and external affairs in the College of Liberal Arts and Sciences, as well as chair of the Department of Anthropology and associate director of the university's world-renowned Climate Change Institute.
-30-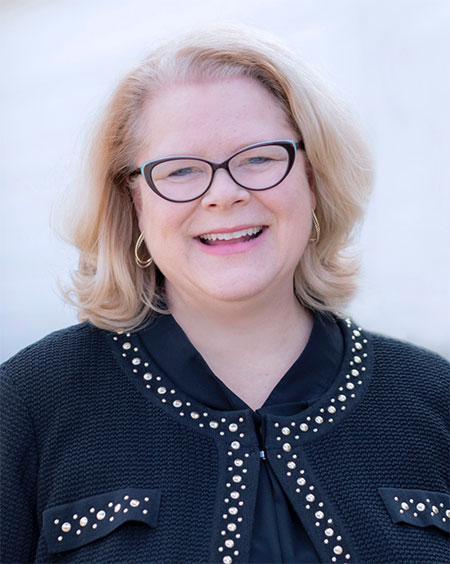 Kristin Sobolik was appointed permanent chancellor of UMSL effective immediately.
 What others are saying about Kristin Sobolik:
"Having had the privilege of working closely with Dr. Sobolik over the last couple of years as president of the Alumni Association, I am extremely pleased and excited by her selection as chancellor. Dr. Sobolik possesses the unique set of skills, training and experience necessary to lead the university's efforts to transform the lives of its students and to have a meaningful impact on the future success of the St. Louis region.  She has a proven track record at other educational institutions and has done a tremendous job as provost and interim chancellor and will continue in her expanded role to advance the importance and impact of UMSL on the community and individual lives." 
—Joseph Blanner, President, UMSL Alumni Association
"I could not be more pleased that Dr. Kristin Sobolik has been permanently appointed to the chancellorship at UMSL and am honored to sit on the Chancellor's Council with her at the helm. She has the experience, the vision and the passion to guide the university toward continued excellence in education, research and community service. Since coming to St. Louis, she has consistently demonstrated the university's values of integrity, inclusion and innovation both professionally and through her volunteer work with STEMSTL, Girl Scouts and Cortex Innovation Community. As the trends in higher education are transforming education models, financial models and marketing strategies, Dr. Sobolik is exactly the right leader at the right time."
—Kenneth Cella, Edward Jones Principal, Client Strategies Group 
"Kristin Sobolik has distinguished herself as an educator, researcher, dean, provost and interim chancellor. I can think of no one better equipped or prepared to the lead the University of Missouri-St. Louis — one of the nation's elite public metropolitan universities. This is an excellent choice for St. Louis and for Missouri."
—UMSL Chancellor Emeritus Thomas F. George
"Dr. Sobolik came to UMSL with a strong background as an interdisciplinary scholar and seasoned administrator. At UMSL, she has developed a detailed understanding of the workings of the university and the key role it plays in the St. Louis region. She has also developed strong collaborative relationships with key stakeholders and shown a sincere commitment to UMSL's mission of providing high-quality education, fostering meaningful research and creative activity, and strengthening the local community. She is uniquely positioned to guide UMSL through our current challenges and move UMSL to the next level as an urban, public research university. I look forward to continuing to work with Dr. Sobolik in pursuit of those goals."
—Alice Hall, Chair, UMSL Faculty Senate
"As a graduate of UMSL, I believe it's important to understand the impact the school has had on St. Louis, the state and our nation. UMSL has enabled many – like me – who thought they didn't have a chance to succeed to become contributors. UMSL enables intercity students, income stressed students and students that want to live in St Louis and make a difference to achieve the goal of enhancing their life while enhancing the lives of our community. Our graduates have become productive workers, successful managers and even Fortune 500 CEO's. Tom George's successor needs to take UMSL to the next level. Kristin is that leader! I've seen the energy Kristin has brought to UMSL and the work she's put in to ensure the university continues its mission to provide a first-rate education to students, no matter their background. I too admire her vision to look beyond the campus and find ways that UMSL can impact the greater St. Louis region through its scholarship and economic development initiatives. Early on, UMSL and Express Scripts joined together to further both institutions by sharing research projects, undergraduate curriculum focused on evolving market place needs, internships and launching Executive MBA programs.  Many of our joint efforts speak to the success of Express Scripts. The continued and growing partnership between UMSL and Express Scripts reflects that success. Under her leadership, I believe the university will only widen its reach in this community, and I look forward to supporting her efforts."
—George Paz, Retired Chairman & CEO Express Scripts and President of the UMSL Chancellor's Council
"I am extremely excited to hear the news of the appointment of Dr. Kristin Sobolik as the next chancellor of UMSL. From my early interactions with Provost Sobolik to now Chancellor Sobolik, I have seen firsthand her passion and dedication for UMSL and the surrounding community. I am confident that she will lead this university in a positive direction, and we should all rally behind her in support. Student Government Association looks forward to working with Dr. Sobolik as the next chancellor."
—McKenzie Schuessler, President, UMSL Student Government Association
"I believe Kristin Sobolik has demonstrated an exceptional ability to lead UMSL. She has a solid academic background, substantial administrative experience and is genuinely interested in education on the campus, in St. Louis and throughout the state."
—UMSL Chancellor Emeritus Blanche M. Touhill
Reviewed 2020-04-09