Dr. Bruce Walker selected to receive university's leadership award
August 25, 2008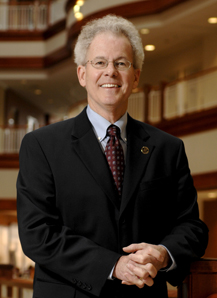 Dr. Bruce Walker, Lansford Professor of Leadership and dean of the Robert J. Trulaske, Sr. College of Business at the University of Missouri-Columbia, has been named the 2008 recipient of the Manuel T. Pacheco Academic Leadership Award. Walker will be honored at a dinner held in conjunction with the University of Missouri's Leadership Development Program on Sept. 22.
During Walker's tenure as dean, the college has developed and twice updated a comprehensive strategic plan, engaged hundreds of alumni in its educational activities, and raised more than $100 million in private support, with these funds used for student scholarships, named faculty positions, academic and professional-development programs, and the college's new building, Cornell Hall. More than 80 percent of the college's faculty members have been hired during Walker's time as dean, and national rankings of the college's degree programs have improved markedly during the past 10 years. In October 2007, MU's business school was named the Robert J. Trulaske, Sr. College of Business in recognition of a series of gifts from Robert and Geraldine Trulaske and, since the death of Mr. Trulaske, from Mrs. Trulaske.
"Bruce's contributions to the Trulaske College of Business have been remarkable," said MU Provost Brian Foster. "Under his leadership, the college has grown in both enrollments and quality. Bruce has helped to attract and retain top-caliber faculty and staff members, and his extensive involvement with the business community has been instrumental to the success of the college. Bruce is most deserving of this award."
Walker previously served on the marketing faculty at Arizona State University for 16 years. His research, which focuses on franchising, marketing channels and survey methods, has been published in various academic and trade journals. He is the co-author of Marketing, a textbook used in many collegiate business schools around the world.
Walker received his doctorate in business from the University of Colorado. He is a member of the boards of directors of Boone County National Bank and the Missouri Innovation Center, and has been active in the Heart of Missouri United Way.
The Manuel T. Pacheco Academic Leadership Award was created in 2002 and is presented to an academic administrator who exemplifies outstanding academic leadership at the University of Missouri. Former University of Missouri President Manuel T. Pacheco was recognized as a leader who exhibited humility and respect for others and who worked diligently to develop leaders around him. Award winners exemplify these characteristics.
Nominations can be made by members of the President's Academic Leadership Institute advisory committee or any alumni of the University of Missouri Leadership Development Program. A universitywide committee reviews the nominees.
A high-resolution photo is available here:
http://www.umsystem.edu/ums/news/releases/images/walkerb_hires.jpg
Can't find what you are looking for?

Search umsystem.edu: