Contact: Jennifer Hollingshead
Office: (573) 882-0601
E-mail: hollingsheadj@umsystem.edu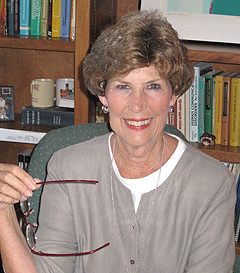 The University of Missouri has announced that Linda Edwards, Ed.D., dean of the School of Education at the University of Missouri-Kansas City, is the 2006 recipient of the Manuel T. Pacheco Academic Leadership Award.
Edwards will be presented with a plaque and a $2,500 award at the Leadership Development Program Kickoff/Alumni dinner, Sept. 18, 2006, at the Lodge of the Four Seasons at the Lake of the Ozarks. Edwards also will share her views and exchange ideas on leadership in university settings during a group session of the LDP earlier that day.
Edwards has served as dean of the School of Education at the Kansas City campus since fall 2003. During the past thirty years at the UMKC School of Education, she has served as associate dean; interim dean; chair, Division of Curriculum and Instructional Leadership; principal investigator for several federal and foundation grants; and professor of special education/behavior disorders.
"Linda fights every day in the hope that someday all of our children will have the opportunity that comes from a good education, regardless of their backgrounds," said Tamara Murdock, Ph.D., associate professor of psychology at UMKC. "Moreover, she strongly believes that the School of Education is both obligated to and uniquely qualified for the youth of Kansas City. People follow Linda because they believe in her."
Edwards has a special interest in the preparation of effective teachers, counselors and educators for urban settings. Under her leadership, the school developed the Institute for Urban Education (IUE), which focuses on preparing exemplary educators for urban settings. She serves as co-chair of the IUE's Executive Committee. In addition, Edwards has completed several funded research initiatives in the areas of instructional technology, its effectiveness in student learning and motivation, and its integration into teacher education content and curriculum.
She also has worked to improve the climate for all faculty and staff in the School of Education by addressing diversity and developing a plan, among other actions. "The faculty and staff frequently remark on the more positive and collaborative culture that has been cultivated by Dr. Edwards," said Dr. Lori Reesor, associate dean of the School of Education.
Edwards received a master's degree and doctorate from the University of Kansas. Among her many honors include the UMKC School of Education Outstanding Professor Award; Kellogg Fellow finalist; several best practices awards from the State of Missouri; and a U.S. Department of Education Educational Leadership award. She also has served on community boards including the Gillis Center, Children's Place, Lee's Summit Community Hospital and the Missouri Center for Economic Education.
The Manuel T. Pacheco Academic Leadership Award was created in 2002 and is presented to an academic administrator who exemplifies outstanding academic leadership at the University of Missouri. Former University of Missouri President Manuel T. Pacheco was recognized as a leader who exhibited humility and respect for others, and worked diligently to develop leaders around him. Award winners exemplify these characteristics.
Nominations can be made by members of the President's Academic Leadership Institute advisory committee or any alumni of the University of Missouri Leadership Development Program. A University-wide committee reviews the nominees.
The Leadership Development Program was initiated by Pacheco in 1999 to develop leaders at all four UM campuses.
Reviewed 2010-06-16