Gary D. Forsee appointed 22nd President of the University of Missouri
December 20, 2007
Contact: Jennifer Hollingshead
Office: (573) 882-0601
E-mail: hollingsheadj@umsystem.edu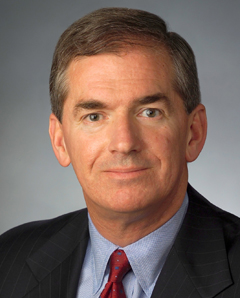 Gary D. Forsee, a native Missourian and veteran business leader, was appointed Thursday as the 22nd President of the four-campus University of Missouri System.
The University of Missouri Board of Curators voted unanimously during executive session today to hire Mr. Forsee with an initial three-year contract. Mr. Forsee is to succeed Interim President Gordon H. Lamb, who has served since April. Mr. Forsee is to begin his duties Feb. 18, 2008.
"I am humbled and honored to be introduced as the next president of the University of Missouri," Mr. Forsee said. "I have a passion for education, and the University of Missouri is the premier public higher education asset of our great state."
Mr. Forsee continued: "The University not only serves our state - it has defined us since 1839, when we were established as Missouri's first land-grant institution. It also defines excellence in education, as our state's foremost public institution of higher learning. And it defines our future, by providing high quality, affordable education for the generations that will follow us."
Mr. Forsee, 57, served as chairman and chief executive officer of Sprint Nextel Corporation, a Fortune 50 company, from 2003-2007. In this role, he oversaw landmark ventures in wireless and wireline services and initiated new technology platforms for enhanced mobility in the United States.
Fortune magazine named Sprint Nextel the leading innovator in the telecom category and the second most admired company in the same category in 2006. BusinessWeek magazine named Mr. Forsee one of the best business leaders in America in 2004 and 2005.
Mr. Forsee holds a bachelor's degree in engineering from the University of Missouri-Rolla. The University awarded him an honorary Doctor of Engineering degree in 2005.
"Gary's background in one of the fastest-evolving fields - telecommunications - reflects an appreciation for nimble thinking and a high regard for thinkers who make a critical difference," said Don Walsworth of Marceline, chairman of the Board of Curators. "He is a proud civil engineering graduate from UMR with deep roots in Missouri and a devotion to the University of Missouri. We are thrilled to introduce him as the next leader of our University."
Mr. Forsee announced Thursday that at his request, Dr. Lamb will remain through 2008 as Executive Vice President of the UM System, serving as a key adviser to the new president and undertaking special projects. Prior to assuming the interim presidency last spring, Dr. Lamb had served as a public university president and a higher education executive search consultant.
Forsee previously served as chief executive officer and chairman of Sprint, and as vice chairman of BellSouth Corporation, where he was responsible for domestic operations and chaired the Cingular Wireless joint venture. With more than 35 years of experience in telecommunications, he has also held leadership positions with Global One, AT&T and Southwestern Bell.
Mr. Forsee was born in Kansas City and spent his boyhood in Moberly, St. Joseph and Cape Girardeau. He graduated from Cape Girardeau Central High School before attending UMR. Mr. Forsee and his wife of 35 years, Sherry, have lived in Hannibal, Kansas City, Joplin, Springfield, Charleston and St. Louis, among other U.S. and international locations. Numerous family members, including the Forsees' two daughters, are University of Missouri graduates.
The Forsees have been very active in the communities in which they've lived. Mr. Forsee presently serves on UMR's Board of Trustees and has served as national chair of the March of Dimes, as a trustee for the Boy Scouts of America. Throughout their marriage, the Forsees have been involved in a broad range of professional, civic and philanthropic organizations.
Mr. Forsee will be paid $400,000 per year, plus up to $100,000 in annual incentive pay, which will be deferred for payment until his completion of three years as president.
Editors: A high resolution photo of Gary Forsee is available online here:
http://www.umsystem.edu/ums/news/releases/images/Forsee_hires.jpg
A live video stream will be available beginning at 1:00 p.m. at this location:
Radio news organizations will also be able to download broadcast quality audio at the following website:
A web page with information about the announcement will be available at this address, updated continuously:
http://www.umsystem.edu/president
A satellite news feed from the announcement, news conference and b-roll will be available Thursday between 4 p.m.-4:30 p.m. CST. Feed information is as follows:
Galaxy 26, C-band (formerly Telstar/IA 6)
Transponder 9
Downlink Freq: 3880 MHz
Audio 6.2/6.8 Split Stereo Feed
G26 is at 93 degrees West
For technical issues or refeeds, contact (573) 751-2721.
Sections
Can't find what you are looking for?

Search umsystem.edu: