Contact: Jennifer Hollingshead
Office: (573) 882-0601
E-mail: hollingsheadj@umsystem.edu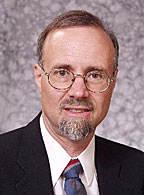 What: Media opportunity with newly appointed University of Missouri-St. Louis Chancellor Thomas F. George
When: 10 a.m., Monday, July 28, 2003
Where: Millennium Student Center, Century Rooms B and C, UM-St. Louis Campus
University of Missouri President Elson S. Floyd will inform the UM System Board of Curators today of his intention to appoint Thomas F. George chancellor of the University of Missouri-St. Louis. Dr. George currently serves as chancellor of the University of Wisconsin-Stevens Point.
News media and members of the UM-St. Louis campus community will be invited to meet the new Chancellor at 10 a.m., Monday, July 28, 2003, in the Millennium Student Center on the UM-St. Louis Campus.
George, 56, is expected to assume his new duties on September 1. He would succeed Chancellor Blanche M. Touhill, who retired December 31, 2002, and Interim Chancellor Donald H. Driemeier.
As chancellor of the University of Missouri-St. Louis, George would oversee all academic and administrative operations of the campus, which had a Fall 2002 enrollment of 16,660 students. He would report directly to President Floyd, who oversees the four-campus UM System.
The University of Missouri-St. Louis is an outstanding and exciting institution, and it is my privilege to join UMSL and the St. Louis community, said George. I look forward to working with the faculty, staff, students, alums, external friends and supporters, Board of Curators, President Floyd, and UM System to move UMSL to even greater levels of excellence in academe and service to St. Louis and the state of Missouri.
Floyd chose George from a list of finalists developed by a 19-member campus search committee composed of faculty, staff, students, alumni, and supporters of UM-St. Louis. The search committee was chaired by Dr. Douglas Smith, Professor and Director of the Center for Business and Industrial Studies.
I am delighted that Tom George will be joining the University of Missouri family, Floyd said. His expertise and enthusiasm make him the ideal person to lead a vibrant urban campus like the University of Missouri-St. Louis.
Known at the University of Wisconsin-Stevens Point as the "students' chancellor," George has been highly engaged with students, faculty, and staff and provides ready accessibility to constituents both on and off campus.
In addition to his role as campus and community leader and fund-raiser, George is a professor of chemistry and physics and an active researcher in the development of theories and mathematical techniques on computers to describe phenomena in chemical/materials/laser physics, with applications to nanotechnology. He maintains active collaborations with scientists around the world and holds the title of visiting professor of physics at Korea University in Seoul.
George's research, including innovations in teaching, has been funded for over thirty years from a wide variety of federal agencies and private foundations. His work has led to 600 articles, two co-authored textbooks, and 14 co-edited books. His scientific achievements have garnered prestigious awards such as the Marlow Medal and Prize from the Royal Society of Chemistry in Great Britain and fellowships from the Guggenheim, Sloan, and Dreyfus Foundations. He also has been named a fellow of the New York Academy of Sciences, the American Physical Society, the Society of Photo-Optical Instrumentation Engineers, and the American Association for the Advancement of Science. He has been on the editorial boards of six different scientific journals and is currently one of the two editors of the International Journal of Theoretical Physics, Group Theory, and Nonlinear Optics.
George has served as chair of the Physical Division of the American Chemical Society and chair of the Northwest Academic Forum of the Western Interstate Commission for Higher Education. He is a commissioner on the Midwestern Higher Education Commission and is on the founding Board of Directors of the Distributed Learning Workshop. George has served on the Council of State Representatives of the American Association of State Colleges and Universities. He is a member of the National Collegiate Athletic Association Division III Budget Committee. He has organized various international conferences and served on many review panels for universities, funding agencies, and other organizations.
In Wisconsin, George has been on the board of directors of the WiSys Technology Foundation and the board of commissioners of the Academic Advanced Distributed Learning Co-Laboratory. He has served on a variety of civic boards, where his offices include president of the Samoset Council of the Boy Scouts of America (he is an Eagle Scout), president of the United Way of Portage County, and vice-president of the Stevens Point Area YMCA.
As a musician, George has studied with faculty at the Berklee School of Music in Boston and the Eastman School of Music in Rochester, New York, and has performed extensively in public. An accomplished jazz pianist, he has performed as a soloist and with combos/ensembles (including singers), especially in connection with university and community events. In a duo with a trumpeter/flgelhornist, he has recorded a compact disc entitled Close Your Eyes: Women Jazz Composers under the Hester Park label.
Born in 1947 in Philadelphia, Pennsylvania, George received his high school diploma in 1963 from Friends' Central School, where he earned varsity letters in soccer and wrestling; he received the distinguished alumni award in 2003. He completed his B.A. degree (Phi Beta Kappa) in 1967 with a double major in chemistry (with honors) and mathematics (with honors) from Gettysburg College, which gave him the distinguished alumni award in 1987. He earned his M.S. degree in 1968 and Ph.D. degree in 1970 in theoretical chemistry from Yale University, followed by postdoctoral appointments at MIT and the University of California at Berkeley. In 1972 he joined the faculty at the University of Rochester where, by age 29, he attained the rank of professor of chemistry. In 1985 he moved to the State University of New York at Buffalo as dean of the faculty of natural sciences and mathematics for six years. Prior to coming to Stevens Point in 1996, he served for five years as provost and academic vice-president of Washington State University.
George has been married since 1970 to Dr. Barbara Harbach, who is an associate professor of mathematics and computing at the University of Wisconsin-Stevens Point (formerly professor of music at Washington State University, 1991-97). She is a harpsichordist, organist, recording artist, and composer, and she is co-editor of the journal Women of Note Quarterly and co-owner of Vivace Press. She has the following degrees: B.A., Pennsylvania State University; M.M.A., Yale University; D.M.A., Eastman School of Music; Konzertdiplom, Musikhochschule, Frankfurt, Germany; and Honorary Doctorate in Music, Wilmington College, Ohio.
Reviewed 2010-06-16