Tony Luetkemeyer Takes Oath as Student Representative to UM Board of Curators
July 26, 2007
Contact: Jennifer Hollingshead
Office: (573) 882-0601
E-mail: hollingsheadj@umsystem.edu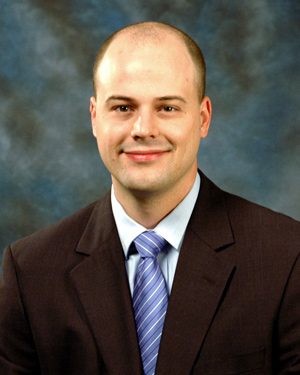 Tony Luetkemeyer, 23, a law student at the University of Missouri-Columbia, was sworn in Thursday, July 26, to serve as Student Representative to the UM Board of Curators. A native of Farmington, Luetkemeyer took his oath of office at the start of the Board of Curators annual retreat in Marceline, Mo.
Luetkemeyer has been active in activities on the Columbia campus, including his election in 2005 as student body president. In 2006, he was elected to chair the Intercampus Student Council, which has representatives from all four University of Missouri campuses. He graduated in May 2006 with a bachelor's degree in history and political science, magna cum laude, making him the third generation of his family to graduate from the University. Luetkemeyer is in his second year of law school at the Columbia campus.
"Representing student interests was a hallmark of my undergraduate experience at MU, and I am excited to continue that tradition as a law student," Luetkemeyer said. "I am honored to be part of such a distinguished group of individuals, and look forward to working with the Board to ensure the University of Missouri remains one of the premier educational institutions in the nation."
Luetkemeyer succeeds Maria Curtis Kerford. Governor Matt Blunt appointed Luetkemeyer last week to complete the term of Ms. Kerford. The Student Representative attends all meetings of the Board of Curators as a non-voting participant. The Board of Curators governs the four-campus University of Missouri system.
Can't find what you are looking for?

Search umsystem.edu: