Contact: Jennifer Hollingshead
Office: (573) 882-0601
E-mail: hollingsheadj@umsystem.edu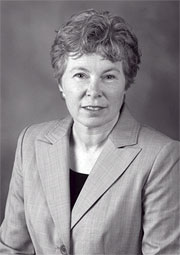 Columbia, Missouri - Robert Frizzell, chair of the MOBIUS Council and director of libraries at Northwest Missouri State University, announced Beth Fisher as the new executive director of MOBIUS. Fisher replaces George Rickerson, who served as executive director since its beginning in 1998 and is now the associate vice president for administrative applications within the University of Missouri system.
Fisher was most recently the associate director for the information technology acquisitions department at Virginia Polytechnic University with primary duties involving contract negotiation and administration for the university's major software purchases. Prior to this position Fisher managed the cost recovery research center at Virginia Tech, which performed competitive intelligence work and information support services for Virginia companies.
 "The MOBIUS Executive Committee is very excited that Beth Fisher will be joining us as executive director," Frizzell said. "We believe Beth is the right person to lead our successful program of resource sharing among Missouri libraries and to expand that program into new areas of service."
Ms Fisher's professional career includes service at the University of Kentucky, Towson State University, Johns Hopkins University, University of Texas at Austin, Cambridge University (England) and Virginia Tech.  Her duties have included reference work, serials cataloging, departmental management in a number of areas and library fiscal and accounting assignments.
She has also been active professionally at the local, state, national and international levels, including two terms as president of the Virginia chapter of the Special Libraries Association. Her international involvement includes ongoing assignments with the International Federation of Library Associations as well as invited workshops in Russia, Turkey and South Korea. She is a member of the New River Valley Planning Commission, Beeburg Quilters (Blacksburg, Virginia) and a former member of Rotary International. Ms. Fisher has four children.
Originally funded by the State of Missouri and member institutions, MOBIUS is now completely funded by member institutions. The largest single project for which MOBIUS is responsible is The Common Library Platform project. The CLP creates a virtual collection and a single user interface that allows faculty and students to request library materials using any personal computer in any location with access to the Internet. Requested materials are delivered within one or two days of being requested by the MOBIUS Delivery System.
Reviewed 2010-06-16