Dr. William P. Schonberg Honored as Recipient of Manuel T. Pacheco Leadership Award
September 25, 2007
Contact: Jennifer Hollingshead
Office: (573) 882-0601
E-mail: hollingsheadj@umsystem.edu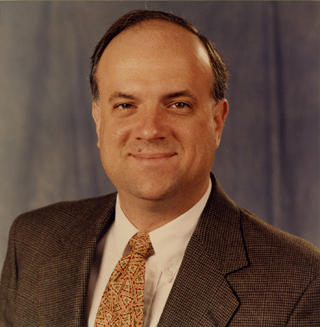 The University of Missouri has announced that Dr. William P. Schonberg, Chair and Professor of the Department of Civil, Architectural and Environmental Engineering at the University of Missouri-Rolla, is the 2007 recipient of the Manuel T. Pacheco Academic Leadership Award.
Schonberg was presented with a plaque and a $2,500 award at the Leadership Development Program Kickoff/Alumni dinner September 24, 2007, at the Lodge of the Four Seasons at the Lake of the Ozarks.
Schonberg served as interim dean of the School of Engineering at the Rolla campus during the 2006-07 academic year. He has also served as Professor and Chair of the Civil, Architectural and Environmental Engineering (CArE) department.
"Bill is an individual who can deal with difficult situations very effectively, discuss contentious issues in a direct, clear way, and at the same time maintain a positive working relationship with everyone," said Warren K. Wray, Ph.D., P.E., Provost and Executive Chancellor for Academic Affairs at UMR. "He is able to maintain perspective on the larger goals and objectives and to make decisions based on his appreciation of the strategic impact."
Under his leadership as Professor and Chair of CArE, Schonberg coordinated two undergraduate curriculum revisions, fostered an increase in annual research expenditures, and worked with faculty and staff to write the Department's first Five-Year Strategic plan, including mission and vision statements.
As Interim Dean, Schonberg was responsible for six engineering departments and various special engineering programs, worked to implement cooperative programs in civil engineering and electrical engineering at Missouri State University, worked with the Engineering Deans' Advisory Council to gain advice on campus directions, served on the External Affairs Restructuring Committee as part of campus-wide reorganization activity, served as a member of the Chancellor's Advisory Council on African American Recruitment and Retention and worked to develop a streamline nomination and selection process for Professional recipients.
Schonberg received his bachelor's degree from Princeton University and his master's and doctorate degrees from Northwestern University. Schonberg was elected as a fellow of the American Society of Mechanical Engineers (ASME).
The Manuel T. Pacheco Academic Leadership Award was created in 2002 and is presented to an academic administrator who exemplifies outstanding academic leadership at the University of Missouri. Former University of Missouri President Manuel T. Pacheco was recognized as a leader who exhibited humility and respect for others, and worked diligently to develop leaders around him. Award winners exemplify these characteristics.
Nominations can be made by members of the President's Academic Leadership Institute advisory committee or any alumni of the University of Missouri Leadership Development Program. A University-wide committee reviews the nominees.
The Leadership Development Program was initiated by Pacheco in 1999 to develop leaders at all four UM campuses.

Download hi-res portrait of Dr. Schonberg (JPG 1.25 MB)
Can't find what you are looking for?

Search umsystem.edu: