Contact: Jennifer Hollingshead
Office: (573) 882-0601
E-mail: hollingsheadj@umsystem.edu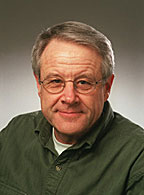 Dr. Douglas D. Randall, professor of biochemistry and director of the Interdisciplinary Plant Group at the University of Missouri-Columbia, has been appointed to the National Science Board, the governing body for the National Science Foundation.
Last fall United States Senator Christopher Bond (R, MO) recommended that President George Bush nominate Randall for the prestigious post. In April the Senate confirmed the President's nomination of Randall, whose term on the NSB will expire in 2008.
The NSB advises the President and Congress on national science policy and governs the National Science Foundation. The NSF's responsibilities include promoting the progress of science; advancing national health, prosperity and welfare; and helping secure national defense.
"Doug Randall is one of America's star scientists in the life sciences. I am fortunate to have him as one of my top science advisors as I work to build the Missouri life sciences industry," said Bond. "I was proud to make his nomination to the National Science Board, and his appointment will only raise the already high stature of the University of Missouri."
Randall holds a bachelor's degree in chemistry from South Dakota State University and a doctorate in biochemistry from Michigan State University. He joined the UM-Columbia faculty in 1971. UMC's Interdisciplinary Plant Biochemistry and Physiology Group, established by Randall and his colleagues, now includes more than 40 research teams.
Randall's research focuses on plant metabolism, the movement of signals from outside a cell to inside a cell, regulation of plant enzymes and the interactions between photosynthesis, photorespiration and respiration. His work on plant protein phosphorylation led to the founding of a national working group to study it. Understanding protein phosphorylation is vital because it is thought to be involved in most developmental and environmental responses of plants.
A former chair of the board of trustees of the American Society of Plant Physiologists, which he also served as secretary, Randall has served on the editorial boards of several scientific publications.
In addition, Randall has received many honors from UM-Columbia including a Gold Chalk Teaching Award and a Faculty-Alumni Award.
The only other person from the University of Missouri to serve on the NSB was Frederick Middlebush, a charter member of the organization, who served two terms, from 1950 to 1962. Middlebush was president of the University of Missouri from 1935 to 1954.
Reviewed 2010-06-16