Contact: Jennifer Hollingshead
Office: (573) 882-0601
E-mail: hollingsheadj@umsystem.edu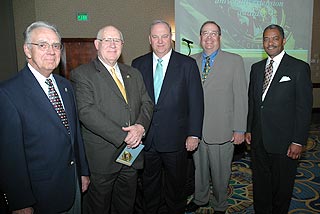 The University of Missouri Alliance of Alumni Associations and Extension honored six individuals for outstanding service to the University at its 2006 Outstanding Alumni Service Awards Dinner at the Capitol Plaza Hotel in Jefferson City on Wednesday, April 19, 2006. Awardees this year include Missouri Governor Matt Blunt; Rep. Gayle Kingery, Poplar Bluff; Dr. Harold Frye, Kansas City; Charles Remington, Rolla; Joseph Porter Jr., St. Louis; and Tom Henderson, Ph.D., Columbia.
Governor Matt Blunt
Outstanding Alumni Service to the University of Missouri
Matt Blunt was elected Missouri's 54th governor on Nov. 2, 2004. As governor, he has worked to make education the state's priority and to create economic development opportunities for Missourians.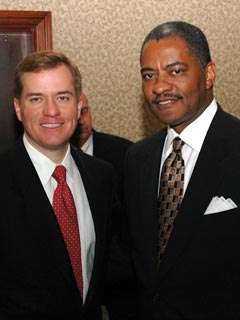 Gov. Blunt is a Strafford, Mo., native who attended public schools there and in Jefferson City. He graduated from the U.S. Naval Academy in Annapolis, Md.
Gov. Blunt served more than five years as an active duty naval officer. He is the only statewide official in Missouri history called to active military duty in wartime, serving for six months in Operation Enduring Freedom. During his naval career, Gov. Blunt received numerous commendations, including four Navy and Marine Corps Achievement medals.
Prior to his election as governor, Matt Blunt served as Missouri's 37th Secretary of State and as a member of the Missouri House of Representatives. Gov. Blunt is a member of the American Legion and the Missouri Farm Bureau.
Rep. Gayle Kingery
Outstanding Alumni Service to UM-Columbia
Rep. Gayle Kingery (R-Poplar Bluff) was first elected in 2002 to represent the 154th District, part of Butler County, in the Missouri House of Representatives. He serves as chair of the Higher Education Committee and as a member of the Education Appropriations and Elementary and Secondary Education Committees.
Kingery received a bachelor's degree in education from Southeast Missouri State University. He attended the University of Missouri-Columbia, where he studied physical education and served as a graduate assistant under football Coach Dan Devine.
A retired educator, Kingery spent three years as a teacher and coach in Jackson, Mo., and 30 years as a teacher, coach and administrator in Poplar Bluff. He served in the U.S. Air Force from 1961 to 1965, with a tour in Viet Nam from 1963 to 1964.
Harold Frye, Ph.D.
Outstanding Alumni Service to UM-Kansas City
Dr. Harold Frye is chair of graduate education and doctoral studies at Baker University in Overland Park, Kan. Frye received his bachelor's, master's and educational specialist degrees from the University of Missouri-Kansas City School of Education.
Frye served as director of the Kansas City Professional Development Schools Collaborative and was instrumental in creating the Institute for Urban Education at UMKC. He is a past president of the UMKC School of Education Alumni Association, vice president of the UMKC Alumni Association, and has served as a member of both the Teacher Education Coordinating Council and the School of Education Scholarship Committee.
Among other honors, Frye is the recipient of the UMKC 2005 Alumni Service Award and was the first recipient of the Hall Family Foundation's Learning Exchange Fellowship. He also is active in community organizations such as the Boy Scouts of America.
Charles Remington
Outstanding Alumni Service to UM-Rolla
Charles Remington, professor emeritus of mechanical engineering at the University of Missouri-Rolla, received his bachelor's and master's degrees in mechanical engineering from the Missouri School of Mines, as UMR was then known. 
Remington joined the faculty at Rolla as an instructor in mechanical engineering and became a full professor. He directed summer training programs for high school students and served as faculty advisor to the M-Club varsity service organization and the Blue Key national honor fraternity.
A registered Professional Engineer and a member of the Academy of Mechanical Engineers, Remington was active in the American Society of Mechanical Engineers, the Society of Automotive Engineers, and the American Society of Engineering Education. He is a member of the Order of the Golden Shillelagh at UMR.
Joseph Porter, Jr.
Outstanding Alumni Service to UM-St. Louis
Joseph Porter, Jr., is a shareholder of the St. Louis office of Polsinelli Shalton Welte Suelthaus PC. Porter, who chairs the firm's financial institutions practice group, received a bachelor's degree, cum laude, from the University of Missouri-St. Louis and his juris doctorate, also cum laude, from the St. Louis University School of Law.
Porter has more than 20 years of experience serving as counsel to a variety of corporations. Much of his practice involves financial institutions and the special regulatory issues they face. He is a member of bar associations in both Missouri and Illinois, as well as a member of the Community Bankers' Association of Illinois and the Missouri Bankers' Association.
Porter is a member of the UMSL Chancellor's Council, the UMSL Business School Alumni Board, and is a lifetime ex officio member of the UMSL Alumni Association governing board. Among other civic activities, he serves as a member of the board for the Friends of KWMU, Inc. (St. Louis Affiliate of National Public Radio), a member of the board of trustees for Incarnate Word Academy and on the board of directors of DePaul Health Center Foundation.
Tom Henderson, Ph.D.
Outstanding Alumni Service to University of Missouri Extension
Dr. Tom Henderson received bachelor's and master's degrees in business administration from Southwest Missouri State University and the University of Missouri-Columbia, respectively, and earned his doctorate in higher education from Southern Illinois University Carbondale.
Henderson began as an Extension business and industry specialist in Pulaski County in 1972. He then served Jefferson and Cape Girardeau counties from 1976 to 1982. Henderson later served as University System extension program director for community resource development and economic development and as vice provost for extension and continuing education at MU. Following his retirement, Henderson also served Extension as interim vice provost and director. He was recently appointed coordinator of economic development at MU.
While with Extension, Henderson established links with grant and contract agencies to leverage state and county dollars and served as principal investigator on grants totaling $18 million. He also represented the University and Extension before groups such as the National Association of State Universities and Land-Grant Colleges. Among his program innovations was leadership for the MU High School, the only accredited, distance-learning high school run by a public institution of higher learning in the state.
Reviewed 2010-06-17