UM General Counsel Marvin E. "Bunky" Wright Honored by the Missouri Bar
September 28, 2007
Contact: Jennifer Hollingshead
Office: (573) 882-0601
E-mail: hollingsheadj@umsystem.edu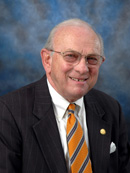 Marvin E. "Bunky" Wright, long-time General Counsel for the University of Missouri, was to be honored Friday evening by The Missouri Bar during its 128th annual meeting in Springfield.
Mr. Wright, a former President of The Missouri Bar, was to receive a Spurgeon Smithson Award during The Bar's annual awards banquet at the University Plaza Hotel. The Spurgeon Smithson Awards are named for a late, distinguished trial attorney from Kansas City whose bequest established the honors in 1976. The awards are given annually by The Missouri Bar Foundation to Missouri judges, teachers of law and-or lawyers who "have rendered outstanding service toward the increase and diffusion of justice."
Mr. Wright has served as General Counsel for the University of Missouri since March 1, 1998. He has announced plans to retire effective this Dec. 31. The Board of Curators has appointed a General Counsel Search Committee to consider prospective candidates to succeed Mr. Wright.
The UM General Counsel provides legal advice and representation for Missouri's premier public higher education institution, including its governing Board of Curators, its President and General Officers, its four campuses, University of Missouri Health Care, and University employees acting in their official capacities. For more information about the UM General Counsel's Office, visit: http://www.umsystem.edu/ums/departments/gc/

Download hi-res portrait of Marvin E. "Bunky" Wright (JPG 376 KB)
Can't find what you are looking for?

Search umsystem.edu: