Contact: Jennifer Hollingshead
Office: (573) 882-0601
E-mail: hollingsheadj@umsystem.edu
John Gardner, vice president for research and economic development for the University of Missouri system, has been appointed to the federal Plant Variety Protection Board by U.S. Agriculture Secretary Mike Johanns.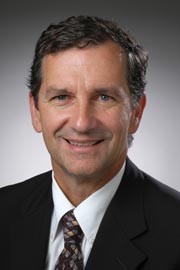 The board is mandated by the Plant Variety Protection Act (PVPA) to advise the Secretary of Agriculture on the adoption of new rules and regulations, make advisory decisions on appeals from applicants and advise on declaring a protected variety open to public use in emergencies. The Board was established by Congress in 1970 and includes farmers, representatives of the seed industry and public and private plant breeders.
The PVPA is administered by USDA's Plant Variety Protection Office, which grants certificates of intellectual property rights protection to developers of new varieties of plants that are reproduced sexually by seed or are tuber-propagated. This protection enables the breeder to market the variety exclusively for a fixed time period and, in doing so, creates an incentive for investment in the development for new plant varieties. USDA's Agricultural Marketing Service monitors operation of the Board.
Gardner was one of 14 appointments or reappointments to the board by Johanns. The appointees are to serve two-year terms.
Gardner was appointed vice president for research and economic development of the four-campus University of Missouri system in 2005. He was formerly associate dean for research and extension programs in agriculture and natural resources for the University of Missouri-Columbia's College of Agriculture, Food, and Natural Resources.
Reviewed 2010-06-16