On Tour with President Tim Wolfe
In the 60 days prior to officially taking office, President Wolfe visited each of the UM System's four campuses to meet with students, faculty and staff. Learn more about his visits through the eyes of his student tour guides by clicking the links below:
University of Missouri-Columbia


Natalie Rooney
Junior
Magazine Journalism and English
Springfield, Mo.
University of Missouri-Kansas City


Antoinette Jackson
Senior
Business Administration
Kansas City, Mo.
Missouri University of Science & Technology

Jared Jenkins
Senior
Business and Economics
Oklahoma City, Okla.
University of Missouri-St. Louis

Eboni Redmond
Senior
Criminology and Criminal Justice
St. Louis, Mo.
Missouri University of Science & Technology

Michael Bouchard
Sophomore
Geology and Geophysics
St. Louis, Mo.
University of Missouri-St. Louis


Saad Sharieff
Senior
English
Fenton, Mo.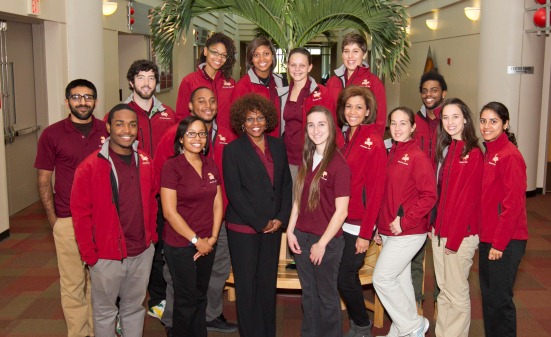 Q&A with Saad Sharieff
Hometown: Fenton, Mo.
What are you studying? I am a senior studying English at UMSL.
What surprised you most about President Wolfe? To be honest, I was intrigued by President Wolfe's experiences and ideas. At one point during the tour, we talked about cultural and socioeconomic issues as if we were good colleagues. That has never happened to me.
What was an amusing story from his tour? Nothing in particular was amusing, because the whole experience was a fantastic opportunity for Eboni and I to meet someone who cared about the school like we did. After speaking to him about his visit to my birth town of Bangalore, India, the president and I discussed the Cardinal's new manager Mike Matheny and his love for golf. He has actually played golf in India, which for me, was a first! There are very few people that I know or have spoken to that have visited my birth city.
What message would you like to leave with President Wolfe when he takes office Feb. 15th? I'm really glad you had come through UMSL's campus. Everyone at the Welcome Center, Mrs. Yolanda Weathersby included, love UMSL for all the opportunities and friendships that it has given us. Thanks for the opportunity for Eboni and I to share our passion for our school with you. I have been to every university in the state of Missouri, either for visiting a friend or helping a sibling move in, and on the drive back into St. Louis, I have always experienced an unexplainable giddiness when driving past the exit for University Blvd. off of I-70. For myself, UMSL has not only been a home for the past four years, but also a safe haven for the nurturing of ideas and experiences. I would not be who I am without the help of UMSL's teaching staff, students, and all the people who work behind the scenes to keep UMSL up and running. Thank you for allowing us to take you around every nook and cranny of our beloved home.
Reviewed 2012-02-15.