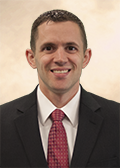 Eric Vogelweid serves as Assistant Vice President and controller of the University of Missouri System, where he is responsible for the accounting operations of UM System, including issuing internal and external financial statements, maintaining a comprehensive system of internal control to mitigate risk, coordinating external audit related activities across the system, and ensuring that reported results comply with generally accepted accounting principles.
Prior to joining the system in 2013, Vogelweid worked for Boone Hospital Center as the manager of Strategic Planning & Physician Services where he coordinated the development of the hospital's strategic plan and managed the hospital's acquisition of several physician practices.  Prior to joining Boone Hospital, he worked for PriceWaterhouse Coopers, LLP, as an auditor, spending a significant portion of his time on the University of Missouri. 
Vogelweid graduated from the Trulaske College of Business in 2009 with a M.S. in Accountancy and received the Federation of Schools of Accountancy Award as the program's top graduate.  Vogelweid is a licensed Certified Public Accountant in Missouri.
Reviewed 2019-08-05