Vice President for Finance and Chief Financial Officer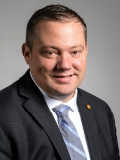 Ryan Rapp serves as vice president for finance and chief financial officer at the University of Missouri System. He has worked in higher education for most of his professional career, primarily in the areas of accounting, finance and audit. In his current position he has responsibility for the university's $3.0 billion budget as well as its endowment and retirement trust fund. Under his direction are the university's budget planning and development, treasury, investment, accounting, procurement, facilities planning and design, real estate, internal audit, risk and insurance management, and institutional research functions.
Rapp currently serves as the audit committee chair for the Central Association of College and University Business Officers (CACUBO) and is an active participant in the National Association of College and University Business Officers (NACUBO) and the Council on Governmental Relations (COGR) including co-authoring a whitepaper in June of 2014 titled "Finances of Research Universities." Rapp regularly presents to academic leaders and finance staff across the four campuses of the University of Missouri on higher education internal auditing, budgeting and finance, including the finance academy for academic leaders.
Prior to assuming his current role, Rapp most recently served as the associate vice president and chief audit executive for the system and was responsible for establishing the new division of Internal Audit and Consulting Services. In this role, he reported to the Board of Curators and directed the administration, planning, execution and reporting of internal audit and consulting activities across the four campuses and health system of the University of Missouri.
Previously, Rapp served as assistant vice president and controller, where he provided systemwide leadership on data analytics, business process redesign initiatives and sponsored programs administration, including the implementation of an Accounts Payable Shared Service Center and a Shared Business Office.
A native of Missouri, Rapp has worked for the university since 2010. Previously, Rapp worked at the accounting firm PricewaterhouseCoopers from 2005 to 2010. He graduated from MU Trulaske College of Business in 2004 with a master's in accounting and accounting information systems and a bachelor's in accounting. He is a Certified Public Accountant.
Reviewed 2019-02-13.