Programs
MU College of Engineering
From Contention to Collaboration
South African Education Program
In 1986, the Board of Curators of the University of Missouri authorized the establishment the University of Missouri South African Education Program (UMSAEP), an educational initiative to aid South Africans disadvantaged by their government's apartheid policies. The UMSAEP committee is led by a director and includes three members from each of the four UM campuses. In April 1986, the UMSAEP committee reached out to the University of the Western Cape (UWC) to explore the possibility of cooperation. In June 1986, a formal memorandum of academic cooperation was signed by UM President C. Peter Magrath and UWC Rector Jakes Gerwel. UWC had been established under apartheid in 1960 as a university for so-called "colored" students. Under the apartheid regime, any mixed race person was deemed to be "colored." This agreement, therefore, had the distinction of being the first ever signed between a non-white South African university and a U.S. university.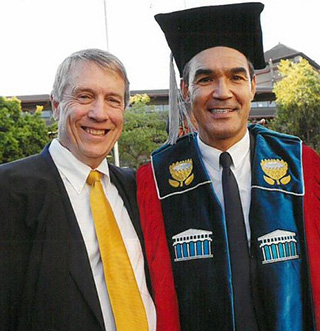 UWC Rector Tyrone Pretorius and Rodney Uphoff, Director of the University of Missouri South African Educational Program (UMSAEP) at the Rector's inauguration in February 2015.
The purpose of the UM/UWC exchange program is to advance mutual understanding between the institutions' faculties and to promote collaborations in teaching, research, and service for the mutual benefit of each institution and of the broader community each serves. Both institutions and the citizens of Missouri and South Africa have benefited from this model partnership. Outstanding faculty members from both universities have participated in the program. To date, more than 500 faculty exchange visits have taken place between UM and UWC. Many exchanges have been for less than one month, but the program has also encouraged longer projects. When this partnership was launched in 1986, UWC was recognized as a progressive institution with a well-earned reputation as one of the intellectual centers of the opposition to apartheid. Today, with its autonomous status, UWC is open to all South Africans and operates under a non-racial democratic philosophy. Archbishop Desmond Tutu recently retired after serving many years as UWC's chancellor.
In 1996, the University of Missouri announced a new program, the "New Initiative," designed to support collaborative projects between UM faculty members and a broad range of South African partners, including collaborators from historically disadvantaged tertiary education institutions (including UWC), South African government agencies, nongovernmental organizations in South Africa or other appropriate South African partners. The first UM projects funded under this program were implemented in 1997. In 1998, the program was renamed the South African Partnerships Program.