Purpose
The purpose of the UM/UWC Faculty Exchange Program is to advance mutual understanding and to demonstrate cooperation in teaching, research and service among the faculties of the University of Missouri System and the University of the Western Cape (UWC) in Cape Town, South Africa. Outstanding faculty members from both universities participate. The program has enabled more than 600 faculty exchanges between the two universities. Many exchanges are from two weeks to one month, but the program also supports longer exchanges.

Join the Program Now!
Understand UWC's Structure
UWC is organized around faculties in Arts (including Religion and Theology), Community and Health Sciences, Dentistry, Economic and Management Sciences, Education, Law and Natural Science. Think about this structure when applying for an award. Visit the UWC Faculties webpage for details (exit the UM System website).
Apply
Visit the Application Details webpage for help in preparing your application. Eligibility criteria, deadlines and other application details are the same for the Faculty Exchange Program and the South African Partnerships Program.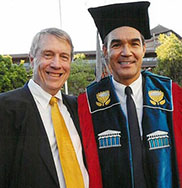 UWC Rector and Vice Chancellor Tyrone Pretorius and UMSAEP Director Rodney Uphoff at the rector's inauguration, February 2015
Faculty Exchange Reports
2023
2022
2021
2020
2019
2018
2017
2016
2015
2014
Go to the UM/UWC Exchange Report Archive...
Reviewed 2023-11-16