Purpose
The South African Partnerships Program makes possible partnerships between UM System faculty members and a number of institutions throughout South Africa, including historically disadvantaged postsecondary education institutions, governmental agencies and nongovernmental organizations.
Join the Program Now!

Eligible UM System faculty and staff are invited to apply. If you are interested in working with only the University of Western Cape (UWC) in Cape Town, then you want to apply under the UM/UWC Faculty Exchange Program; this Partnerships Program is for collaboration with other institutions or for a multi-institutional collaboration that may include UWC.
About the Program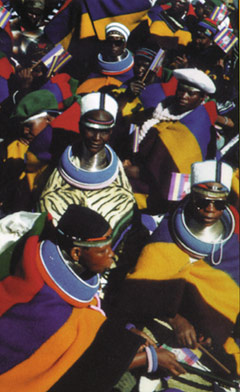 The Partnership Program has supported training for and/or research about:
Teachers in writing, language and media literacy
The role of sports in the lives of political prisoners on Robben Island
Women painters as guardians of Ndebele culture
Statistics
Structural health monitoring
Community development
Wildlife management and conservation
Science education
The program was initiated in 1996. Thus far, it has funded 42 faculty members from the UM System's four campuses.
Reports about the Partnerships
2022
Umit Tokac, Jennifer-Anne Chips and Petra Brysiewicz
Kate Trout, Gillian Bartlett-Esquilant, Julian May and Shane Norris
2021
Felix Fritsch and Hussein Shimelis
Mark Morgan and Namrita Lall
2019
Trent Guess and Antonis Stylianou
2017
2016
2015
2014
ICLDP Pilot Project between University of Missouri Extension - Columbia and the Community Engagement Unit at the UWC
A trip to the University of Missouri...
2013
Natalie Bolton
Kenneth P. Thomas
2012
Kwame Awuah-Offei
Rolene Bauer
Jere L. Gilles and Willi Meyers
Peter Motavalli
Go to the South African Partnerships Report Archive ...
Reviewed 2023-02-13