​
Program Overview 
Advisors and academic coaches are critical in assisting students with navigating their pathway to graduation. UM Advise is a system wide collaborative program designed to provide additional support to advisors and academic coaches, so they are better equipped to guide each University of Missouri System student achieve their education goals. UM Advise currently consists of three components offered in partnership with the four universities: the Advisor Development Program (ADP), Advisor Onboarding Modules (coming soon), and Advising Summits.
Program Framework
UM Advise programming is tightly linked to the academic literature on student advising. According to research, there are three components recognized as being essential to designing a sound academic advising training program: the conceptual content of academic advising, informational (institutional) context and relational content (Hebley, 1987; Hutson, 2013). UM Advise also builds on this framework to include a technical and personal component focusing on competency using relevant systems and a commitment to one's own career, development, and wellness (McClellan, 2017).
Conceptual: The first component deals with building a conceptual understanding of academic advising, such as the history and core values of the profession.
Informational The informational component is linked to the policies, processes and procedures; internal environment; and internal and external resources of the institution.
Relational: The relational component is about finding creative and effective ways to communicate that knowledge to students in a way that improves outcomes.
Technical: Focuses on effective use of relevant technology and online resources, such as student record systems and scheduling software.
Personal: Aims at promoting advisor effectiveness and focuses on self-awareness through self-evaluation, professional development, etc.
While no one program below is currently able to touch on all five of these components, the goal with UM Advise is to collectively provide advisors with professional development opportunities that instill and reinforce these areas. Click the headers below to learn more about each program.
Advisor Development Program (ADP)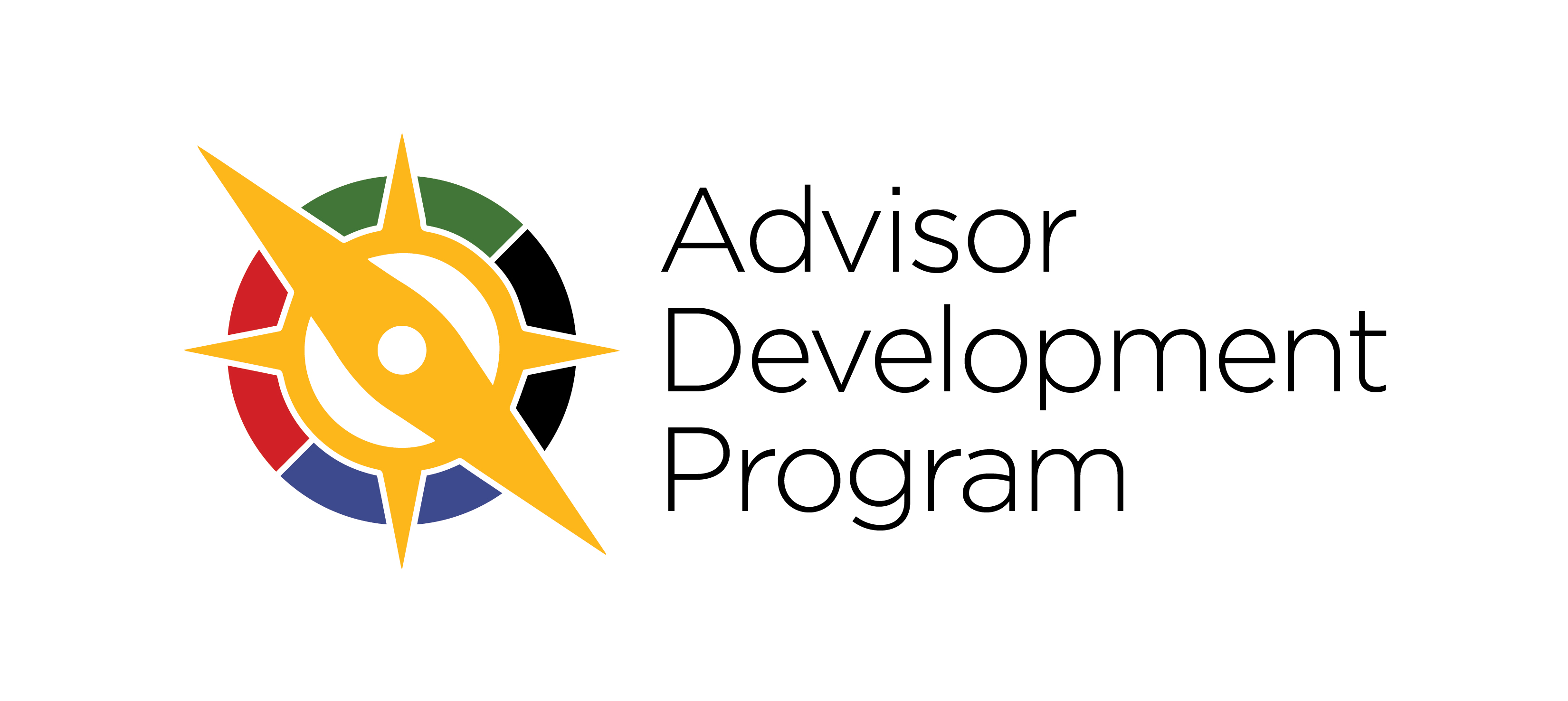 Click here for a list of of the 2019-2020 Advisor Development Program (ADP) cohort.
ADP Goals and Benefits
The goal of the UM System ADP is to recognize and further develop successful advising and academic coaching professionals who will assist in shaping student success strategies for the UM System Universities. ADP brings members together for their own personal growth as well as growth as student support professionals. Participating in ADP will expand and enrich networks at both the personal and institutional levels.
Upon completion of the UM Advisor Development Program participants will be able to:
Better understand their personal strengths and skills
Maximize personal strengths to foster their professional growth
Develop a network of peers across the system
Engage peer networks to identify challenges in advising and student support
Collaborate and engage with peer network to define excellence in advising and coaching competencies
Develop models for continuous improvement in supporting student success
Build commitment of advising and coaching excellence at the UM Universities
Criteria for selection:
Full-time employee (75% FTE or greater)
Primary role is advising or academic coaching (more than 50%)
5+ years advising experience
Performance that consistently exceeds expectations, models excellent advising/coaching competencies
Key Dates for 2019-2020 Cohort:
Variety of personal strengths and competency evaluations
2-day in-person professional development (October 10-11, 2019 in Columbia, MO)
Virtual or campus-based meetings in between November 2019 and March 2020
1-day in-person session at close of program (April 16, 2019 in/near Columbia, MO)
Advisor Onboarding & Professional Development Modules 
Just launched!
The Advising Onboarding and Professional Development Support Modules are the newest addition to UM Advise that will rollout in Fall 2019. These modules are intended to provide advisors from across the University of Missouri System with the key concepts and knowledge to either build or reinforce their expertise. These modules are intended for both new academic advisors and current advisors. View our one-pager for some quick and shareable information about the modules.
A key goal of this program is to create a more consistent, streamlined language around academic advising and to provide greater avenues for advisors to access professional development opportunities. The five modules slated to be released focus on the Conceptual domain of advising. Direct links to each module can be found below. You may also find them by going to Percipio and searching the keyword "Academic" and clicking the "Custom" tab. Alongside each module is a transcript.
Advising Summits
More information about Advising Summits for AY 2020-2021 will be posted soon. As the previous funding cycle comes to an end, the UM Advise Steering Committee is currently in the process of evaluating the existing program and identifying long-term funding. More information regarding the future of Advising Summits will be released in early Spring 2020.
Reviewed 2021-08-02