Records Center User Guide - Retrieval
Requests for the return of records from the Records Center may be submitted as follows:
Mail
Complete the "Request for Return of Records from Records Center" (Exhibit "H", shown below):
Complete one form for each file or box you arc requesting.
If requesting a file or document, be sure to include identifying information in the"Description" box.
Mail to: Records Center, 2910 LeMone Blvd., Columbia
You will need to provide the same information (location number, etc.) when using any of the following methods to request:
Electronic Mail
The Records Center is listed in Microsoft Outlook as "Records Center." You can send an e-mail message with the required information or attach a completed Request for Return of Records from Record Center form.
Facsimile
You can fax a "Request for Return" form to the Records Center at 884=3068.
Telephone
Call the Records Center (882-7652) and request the records you want returned. Please use phone requests sparingly.
In Person
Come to 2910 LeMone Blvd. and ask to see Records Center staff. Working hours are from 7:30 a.m. to 4:30 p.m., Monday-Friday.
Please Note
Please indicate if a requested file or box WILL NOT be returned to the Records Center.
Delivery of Requests
Records requested will bc sent to the Kansas City, Rolla and St. Louis campuses by University COURIER. For next day delivery, the request must bc received by 11:30 a.m.
Offices located in Columbia can receive same day delivery of records, provided the request is made by 11:30 a.m. Requests received after 11:30 a.m. will bc delivered the following afternoon.
When the request is for a single record or file from a box in the Records Center, a "Records Center Location" label will be attached to the record or file. Do not remove this label, as this label indicates where the record or file is to bc refiled.
Returning Requested Files to Storage
Please return files and boxes to the Records Center as soon as feasible.
Return files and/or boxes to storage via Campus COURIER (outlying campuses) or call 882-7652 for pickup (Columbia).
Confidential Disposal
Departments having confidential or sensitive records may either dispose of those records themselves or send the records to the Records Center for disposal. Records sent to the Records Center may be in any reasonably sized box, such as a copy paper box.
Each box sent to the Records Center must have a "Records Destruction Label" (UM 176A, Exhibit "I") attached to the top or side of the box. Any boxes received at the Records Center with the "Records Destruction Label" attached will bc disposed of. Make sure you have the authority to dispose of those records. If there is any doubt about disposing of the records, contact the Records Management staff for clarification.
Use this service only for confidential records.
Exhibit "I": Confidential Destruction Label
Shown actual size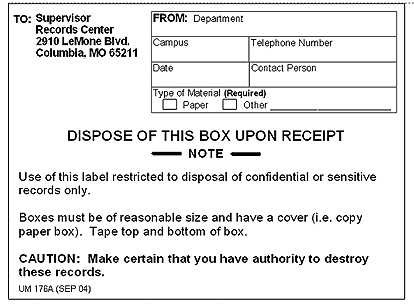 Reviewed 2014-09-26.