Records Center User Guide - Step 3: Begin Transmittal
Refer to Exhibit "C" or you can download a sample PDF version (PDF 15 KB) of the transmittal form.
Item 2
Place an "X" in the box by your campus.

Item 3
Enter Department Name and Address and Records Center Department Code, if known.

Item 4
(Box Numbers) Under "Current year" enter current calendar year. Under "sequential number" enter the box number(s) you assign for these boxes. We recommend sequential numbering starting with"1" for the first box you send in each calendar year.

Item 5
(Records Description) Enter a clear, concise description of the type of records being sent. Records Management must be able to identify the records in order to apply the proper retention period and disposition. "Time sheets" or "Student Folders" or "Budget Workpapers" are examples of record types. "Sally's Files" or "0412256" are not record types.

If you need detailed description of the contents, use UM 365 - Box Contents or maintain an index on your PC.
Item 6
(Records Authorization Number) Enter the authorization number, if known, for each type for records you are sending.

Item 7
(Year of Record) Enter the latest year of the records being sent.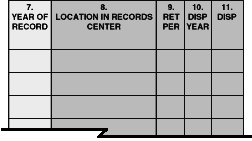 Item 8
(Location in Records Center) Leave Blank
Item 9
(Retention Period) Leave Blank
Item 10
(Disposition Year) Leave Blank
Item 11
(Disposition) Leave Blank
Repeat items 4-7 for each box.
Reviewed 2018-04-30.