Returning Requested Files to Storage
Please return files and boxes to the Records Center as soon as feasible. Please indicate if a requested file or box WILL NOT be returned to the Records Center.
Return files and/or boxes to storage via Campus COURIER (outlying campuses) or call 573-882-7652 for pickup in the Columbia area.
What Ultimately Happens to My Records?
Annual Assessment
Records stored by the University Records Center will be shelved for their appropriate retention period. Once the retention period has passed, Records staff will request approval from the department (owner) to destroy their material or will transfer the information to archives. When you receive this annual notification, please review each entry on the list to insure the records are in fact due for the action indicated on the notice. If all records are listed correctly, please sign the notice and return it for appropriate action.
Confidential Disposal Service
Departments having confidential or sensitive documents that are not records, or that are beyond their retention period, may either dispose of those records themselves in a method that makes record recognition impossible, or send the records to the Records Center for disposal. Records sent to the Records Center should be placed in boxes no larger than a standard copy paper box.
Each box sent to the Records Center for destruction must have a green "Records Destruction Label" (UM 176A) attached to the top of the box. Any boxes received at the Records Center with the "Records Destruction Label" attached will be disposed of. Make sure you have the authority to dispose records. If there is any doubt about disposing records, contact Records staff for clarification at recordsmanagement@umsystem.edu.
Records, which are not of a confidential or sensitive nature, may be disposed of my means of regularly established departmental practices for handling recyclable or waste paper.
Destruction pick-ups are available on Tuesdays and Thursdays for the Columbia area.
Exhibit UM176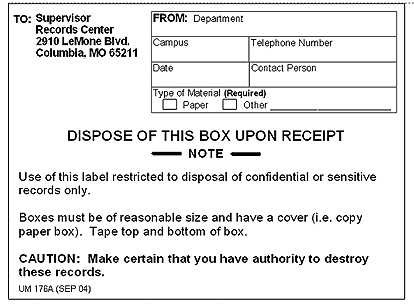 Reviewed 2019-08-05