Order Supplies
You will need some basic supplies to prepare records for shipment to the Records Center. We recommend you obtain supplies as needed rather than maintain a large quantity in your office.
Step 1. Request Boxes (Assembly Required)
All records sent to the Records Center must be in approved Records Center boxes. Records Center boxes are purchased from Printing Services on the Columbia campus at:
http://ps.missouri.edu/PS2/upload/stationery/HTMLFlash/storageBox/ 
Step 2. Request Box Labels (2 labels per page)
Request a supply of UM121: Records Center Box Label forms from the records center at centeru@umsystem.edu or by calling 573-882-7652. Once you have received a supply of box labels, complete the labels and attach one to the side of each box below the handle.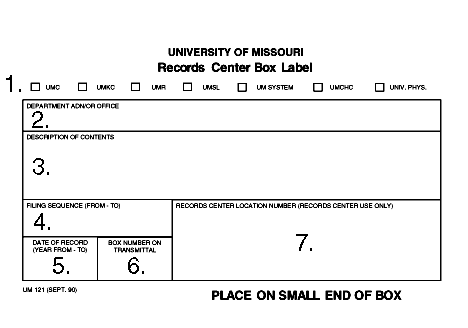 Reviewed 2019-08-05