News & Notes
Save the Date!
Dates for upcoming UM Staff Advisory Council events will be announced soon. Return to this webpage in the spring for more information.
Thank you for your donations!
UM System administration staff donated $224.00 to the Food Bank of Central and Northeast Missouri at the annual team trivia competition.
Congrats to our 2017 Trivia Winners!
HR Historians
Staff Advisory Council
Welcome to UM System Staff Advisory Council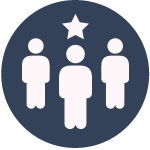 Our Mission:
The mission of the University of Missouri System Staff Advisory Council (UM-SAC) is to serve as a resource to help support the mission of the UM System by creating a positive work environment, promoting the welfare and diversity of the staff, and strengthening communication and relationships among UM System staff and administration.

Mun Choi- UM System President
​Marsha Fischer - Interim Chief Human Resources Officer, Associate Vice President of Human Resources
Ashley Berg - Chair
Katlynn (Beck) Adkins - Vice Chair
Lindsay Kilgore - Secretary
Maureen Kemp - Treasurer
Pam Baker
Athena Bouras
Dominic Broils
Jonas Ditch
Crystal Essen
Nishant Jain
David Miller
Art Smith
Upcoming meetings if you would like to sit in and listen
12/6/2017, from 2-4 pm, at University hall room 227e
Reviewed November 09, 2017.