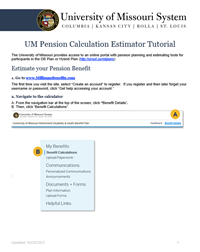 Download a step-by-step tutorial (PDF, 179KB)
Download a glossary of terms (PDF, 250KB)
The University of Missouri System provides access to pension planning and estimating tools for participants in the DB Plan or Hybrid Plan. Visit the Core and Voluntary Plans webpage for more information about eligibility for the University's core retirement plans.
Follow the steps below to access the calculator, or read the full tutorial for step-by-step illustrations.
Go to www.MillimanBenefits.com* (exit UM System site).

The first time you visit the site, select "Create an account" to register (read the How-To: Retirement Calculator Registration (PDF) for additional instructions).
If you register and then later forget your username or password, click "Get help accessing your account."

Navigate to the calculator by clicking "Benefit Details," then click "Benefit Calculations."
Click "Add new calculation" to start the calculator.

Consult the full tutorial (PDF) for additional instructions in using the tool.
*If you are not currently an active employee in the DB Plan or Hybrid Plan, you will not have access to this estimator at this time. Please check back soon for updates.
For questions, contact the HR Service Center at retirement@umsystem.edu or (573) 882-2146.
Reviewed 2021-07-07