Financial wellness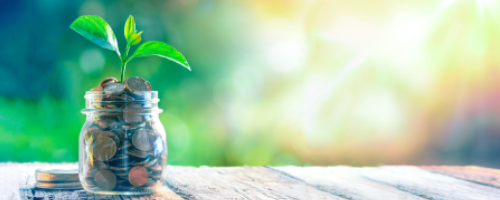 In 2014, the American Psychological Association
conducted a poll
and found money to be the top source of stress among adults in the United States. Research shows routine stress can contribute to chronic health problems such as heart disease, high blood pressure, diabetes, depression, and anxiety. That's why it's important to target stress at the source; this page provides resources to help you take control of your financial wellbeing.
1. Start with the basics.
Learn how to set effective financial goals and budgets.
Know how to work with debt and credit.
Work toward smart saving and investing.
---
2. Check in on your financial wellness.
It's important to check-in on your financial wellness once a year, but it can be difficult to know how to evaluate your own financial situation. For a list of financial check-in steps, access our annual financial wellness checklist (PDF, 152KB).
Consider recent life changes. If you've experienced recent life changes, adjust. That might mean rethinking your spending, setting new financial goals, revising your budget, or updating beneficiaries.
Stay ahead of your experses. Check your debt and repayment strategy. Build an emergency fund that could cover bills for at least three months so you'll be able to stay financially well even under unforseen circumstances.
Power your future. Make sure you're on-track for the retirement you want. As markets move, your retirement portoflio may become unbalanced. That means it's a good idea to rebalance your portfolio back to your ideal investment mix once a year.
---
3. Utilize resources to grow your savings.
Visit the links featured in the boxes on this page to be directed to the particular financial wellness resource that works for you.
In-person workshops and one-on-one courses
Whether it's through partnerships with many university resources, or through the retirement plan administrators for UM System, there are a number of educational and personalized courses, workshops, and meetings available. See a sampling of available offerings in the boxes to the right, or learn more on the full list of events and educational opportunities.
Online resources
Digital guides, readings, and online calculators to help with various facets of financial wellness, from budgeting to estimating your specific retirement benefits from the university.
Retirement statements
The University of Missouri System periodically produces statements as a reminder to help you evaluate your current retirement savings, so you can decide if you're on track for the retirement you want. You can run the same type of estimate yourself any time using the UM retirement calculator.
Stay in touch about financial wellness
Join the mailing list to get up-to-date information on new financial wellness resources. The UM System Office of Human Resources also shares reminders, news, updates, and helpful tips on financial wellness via social media, so check us out!
Reviewed April 17, 2017.