The nationwide search for the Associate Vice Chancellor for Strategic Enrollment at the University of Missouri-St. Louis has begun.  Reporting to the Provost, the Associate Vice Chancellor for Strategic Enrollment will serve as the chief enrollment officer, with principal responsibility for developing and implementing a comprehensive strategic enrollment management plan focused on recruitment, retention, and degree completion consistent with the university's strategic goals and direction. This position will provide transparent and collaborative leadership and oversight to two units, the Offices of Admissions and Registration and Records, and engage with the campus community to further improve enrollment and retention metrics.  Additional information can be found at https://www.umsl.edu/searches/enrollment/.
The following members agreed to serve on the search committee: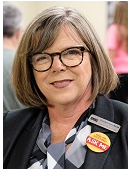 Beth Eckelkamp
Search Committee Chair
Vice Provost for Student Success and Academic Innovation
Search Committee Members:
D'Andre Braddix, Associate Vice Provost, Student Affairs
Liane Constantine, Interim Executive Director of UMSL Global
Mark Curry, CRM Manager in Admissions
Francesca Ferrari, Director, College of Business Graduate Programs
Mitch Hess, Director of Student Financial Services
Theresa Keuss, Registrar
Joseph Methner, President of the Student Government Association
Birgit Noll, Associate Dean, College of Arts and Sciences
Mike O'Steen, Business Manager for Enrollment Management
Natissia Small, Assistant Provost for Access and Academic Support
Marc Spingola, Associate Teaching Professor in Biology
Ann Taylor, Dean of the College of Education
Search Timeline
January 2021: Search Launch 
January / February 2021: Candidate Pool Development 
April / May 2021: Candidate Interviews
May 2021: Announcement
Please send any additional inquiries or feedback to umhrexecutivesearch@umsystem.edu.
Reviewed 2021-01-07