The Leader Competency Model helps define what effective leadership looks like at the University of Missouri System. This model outlines "how" one successfully does their job, and the competencies are used in a variety of programs.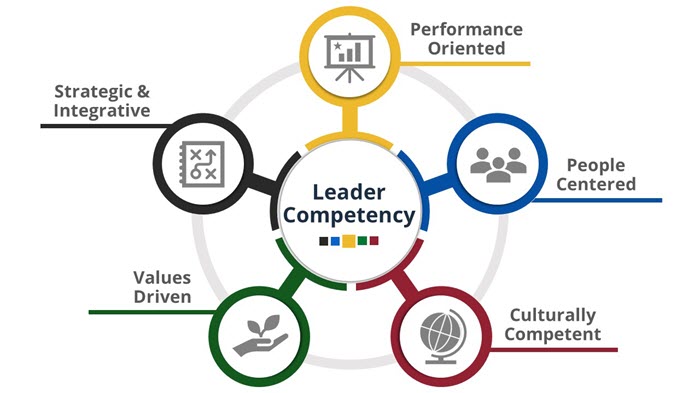 ---
Performance Oriented
Establishes clear goals, aligns priorities and demands accountability;
Sets high yet reasonable standards;
Promotes learning orientation (flexibility, innovation, learning from mistakes and failures);
Recognizes and communicates progress toward goals;
Delegates appropriately to manage own workload and provide opportunities for others;
Implements strong performance management processes (clear expectations, goal setting, monitoring, frequent feedback, coaching, appraisals, etc.); and
Effectively manages poor performance.
---
People Centered
Has a high degree of self‐awareness;
Recognizes how his/her emotions impact other people and situations;
Seeks feedback and looks for opportunities to build new leadership skills and behaviors;
Demonstrates the right amount of confidence in different situations;
Shows a genuine interest in helping others to be successful, achieve their goals and find meaning in their work;
Encourages others to participate in the decision-making process;
Shares credit;
Demonstrates a positive outlook and promotes a positive environment; and
Recognizes value of work/life integration.
---
Culturally Competent
Displays sensitivity in leading people from different backgrounds;
Is able to analyze a situation from multiple points of view and integrate diverse perspectives and values;
Adapts communication style or approach based on the needs of others;
Models and builds a culture of respect for all people;
Actively seeks ways to build teams diverse in background, perspective and style;
Is comfortable with ambiguity and uncertainty; and
Manages conflict productively.
---
Values Driven (character; growth orientation)
Demonstrates honesty, integrity and a consistency between words and actions;
Holds others accountable for ethical behavior;
Inspires trust by being trustworthy and appropriately trusting others;
Demonstrates wisdom by seeking the common good for the university and for the larger society;
Considers the well‐being of others before making decisions; and
Assumes personal and professional responsibility for actions.
---
Strategic and Integrative Leader
Develops and communicates a shared, clear and comprehensive vision, strategy and purpose;
Proactively builds lasting, collaborative and productive relationships;
Is actively engaged in broad professional/leadership communities and conversations both on and off campus;
Is innovative and proactively manages change;
Demonstrates the ability to figure things out, make decisions and take action with the speed and urgency appropriate for the situation;
Invests resources strategically;
Portrays unit and division/college/school in a positive light;
Is mindful of leadership responsibility and impact; and
Is able to adapt leadership behaviors to different situations.
Reviewed 2022-11-03