Chancellor Search- University of Missouri-Columbia
About the Chancellor-designate
---
About the Search Process
Chancellor-designate Alexander N. Cartwright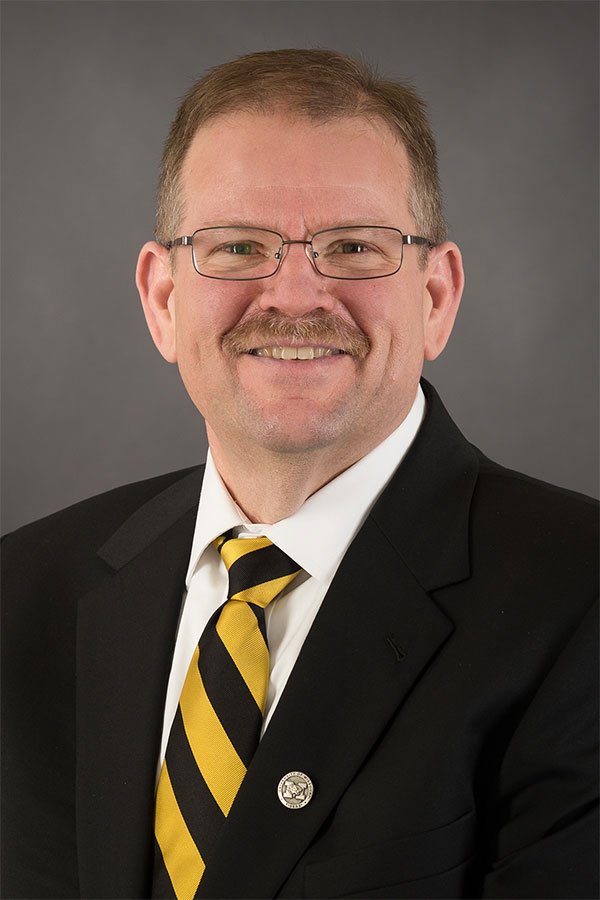 Dr. Alexander N. Cartwright
Provost and Executive Vice Chancellor,
State University of New York
Dr. Alexander N. Cartwright is provost and executive vice chancellor of the 64-campus State University of New York (SUNY) System. He drives academic policy and oversees a broad portfolio including enrollment management, student success, global affairs, and SUNY's broad research enterprise. Dr. Cartwright has refocused SUNY's academic agenda around the overarching areas of: student success and completion; diversity, equity and inclusion; and, through research growth in emerging areas, increasing SUNY's impact on state and global challenges. He introduced and saw adopted a sweeping diversity, equity and inclusion policy for all campuses as well as SUNY's system offices. He developed a comprehensive completion model supporting campus efforts to ensure more New Yorkers earn needed, high quality, credentials. He launched a system-wide educational effectiveness and strategic enrollment process designed to support each campus in meeting improvement goals.
While system provost, Dr. Cartwright also served as acting president of the Research Foundation for SUNY from January 2015 - June 2016, and served as officer-in-charge of two SUNY campuses undergoing leadership transition, SUNY's Downstate Medical Center and SUNY Polytechnic Institute.
An internationally recognized scholar in optical sensors, Dr. Cartwright has been on the faculty of SUNY's University at Buffalo for 22 years, most recently serving as vice president for research and economic development and acting executive director of the NYS Center of Excellence in Bioinformatics and Life Sciences. His technology for fabricating a rainbow-colored polymer using a one-step, low-cost holographic lithography method was named to the Society of Manufacturing Engineer's 2013 list of Innovations that Could Change the Way You Manufacture.
He is a prolific scholar and holds four patents. In 2016, he was named a Fellow of the American Association for the Advancement of Science (AAAS). In 2015, he was named to the Carnegie Foundation's Math Pathways Advisory Board and appointed by NYS Governor Andrew Cuomo to the Photonics Institute Board of Officers. He is also a Fellow of the National Academy of Inventors and SPIE - The International Society for Optical Engineering and a senior member of the Institute of Electrical and Electronics Engineers (IEEE). He holds a Ph.D. in Electrical and Computer Engineering from the University of Iowa.
Dr. Alexander N. Cartwright will join the University of Missouri System as chancellor of the Columbia campus on August 1, 2017.
What Colleagues Are Saying About Dr. Alexander N. Cartwright
"We at the University of Buffalo want to extend our heartfelt congratulations to Dr. Alexander Cartwright on his appointment as Chancellor of the University of Missouri-Columbia. As an internationally renowned scholar, Alex brought vision, creativity, expertise and innate leadership to his work at UB whether in the laboratory, classroom, or industry boardroom. Alex has been a vital member of our university and we know that the University of Missouri will benefit greatly from his academic leadership, his kindness and his inspiration."
- Satish K. Tripathi, President, University of Buffalo
"I am delighted to hear of the appointment of Dr. Alexander Cartwright as the next Chancellor of the University of Missouri. I have personal and direct experience with Alex and have long admired his ability to lead and shape complex higher education systems from our time together at SUNY. I have the highed regard for the combination of principle, integrity, and vision that he brings in support of public higher education. He also brings an active academic perspective into every meeting and also has extraordinary diplomatic and analytical skills that will serve MU extremely well into the future. I look forward to continuing our long-term collaborative relationship – now in the Midwest!"
- Tim Killeen, President, University of Illinois-Champaign
"I couldn't be more thrilled that Dr. Cartwright has been named Mizzou's Chancellor. Dr. Cartwright is an experienced, data-driven administrator with strong research credentials. He epitomizes what Mizzou stands for as a high intellect, high integrity leader. We are lucky to have him lead our great institution."
- Elizabeth Loboa, MU Dean of Engineering, MU Chancellor Search Committee Co-Chair
"Alex has a remarkable record of achievement as both a leader and a scientist. In addition to having tremendous success in translating his own discoveries for the betterment of society, he is a true visionary for cultivating a robust culture of invention and entrepreneurship. Leaders like Alex are vital for the advancement of university research and innovation and we are truly honored to have him as a Fellow of the NAI."
- Paul R. Sanberg, President, National Academy of Inventors
"Alex Cartwright is an outstanding choice for Chancellor of the University of Missouri. As Provost of the State University of New York System (SUNY) Alex has been an inspirational steward for excellence and quality for the academic mission of all 64 campuses. His superb scientific background and prior service as a Vice President for Research at an AAU university were key elements in his success in implementing new strategies to help increase scholarly activity at my campus and others throughout the system. Most of all, he is a skilled leader who will bring out the best in the extraordinary faculty and students at Mizzou."
- Samuel Stanley, President, SUNY-Stony Brook University
"Alex Cartwright's leadership at SUNY generally, and the SUNY Research Foundation specifically, has been instrumental in furthering institutional mission and impact. The combination of his academic pedigree, personal chemistry and leadership vision produced effectiveness both as SUNY Provost and as Interim President of the Research Foundation. He will be missed by all who have worked closely with him."
- John Fitzgibbons, Founder and Chairman of Basin Holdings
"Alex is a very strong leader with a national reputation. Missouri is lucky to have him."
- Peter McPherson, President of APLU; former President of Michigan State University
---
Search for University of Missouri-Columbia Chancellor
Search Committee
On December 5, 2016, Interim President Mike Middleton, in consultation with President-designate Mun Choi, announced the national search for the next Chancellor of the University of Missouri-Columbia campus. "We believe in the tradition of shared governance, and the position of chancellor at MU demands that we honor that tradition by instituting a national search that is clear in its structure and process," Choi said. "A detailed, comprehensive national search befits MU's status as one of the nation's top public universities," he said. Isaacson, Miller, a national search firm that specializes in leadership searches for higher education, has been selected to partner with the University of Missouri System on this search.
On December 29, 2016, Interim President Middleton announced the formation of a 22 member search committee, chaired by Leo Morton, Chancellor of the University of Missouri-Kansas City, and Elizabeth Loboa, Dean of the College of Engineering at MU.
Immediately after forming the committee, system leadership began the important task of engaging various constituent groups to hold a public forum and a series of stakeholder meetings in order to listen to constituent voices regarding the search. These efforts took place during the month of January to gather feedback and campus perspectives regarding the qualities/qualifications of the next chancellor of MU. Conversations with nearly 30 leadership groups and campus community members including faculty, staff, students, alumni, retirees, administrators and business partners were completed. The collected input from these stakeholder meetings directly influenced how the position was communicated to prospective candidates.
In his May 24, 2017 announcement of the chancellor-designate, UM System President Mun Choi extended his thanks to "Chancellor Leo Morton and Dean Elizabeth Loboa for serving as co-chairs and the entire MU chancellor search committee for its important work in assessing and recommending the highest-level candidates from a diverse pool of applicants".
Timeline
December 5, 2016 – Search announced. View the search launch announcement.
December 22, 2016 – Search committee announced. View the formation announcement.
January 26, 2017 – Open forum for faculty, staff, students, alumni and retirees of MU, as well as community members. See the announcement, or view the open forum video.
March 14, 2017 – Committee meeting, Columbia.
April 4, 2017 – Committee meeting, Columbia.
April 23-25, 2017 – Committee meeting, Kansas City.
May 1-16, 2017 – Constituent meetings, Columbia.
May 24, 2017 – Chancellor-designate announced. See the announcement.
Reviewed May 25, 2017.