Chancellor Search- University of Missouri-Kansas City
About the Chancellor-designate
---
About the Search Process
The search for the next UMKC Chancellor - Live now: view the stream
-->
Chancellor-designate C. Mauli Agrawal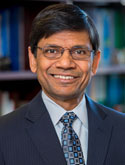 Dr. Chandra Mauli Agrawal
Interim Provost and Vice President for Academic Affairs
The University of Texas, San Antonio (UTSA)
Dr. C. Mauli Agrawal is Interim Provost and Vice President for Academic Affairs at The University of Texas at San Antonio. He previously served as Vice President for Research. He holds the Peter Flawn Professorship in Biomedical Engineering. Prior to joining UTSA in 2003, he worked at the University of Texas Health Science Center at San Antonio (UTHSCSA). Before that he served on the faculty at Duke University. He obtained his Ph.D. from Duke University (1989), MS from Clemson University (1985) and a B. Tech. from IIT-Kanpur, India.
Prior to his appointment as VPR, he served as the Dean for the College of Engineering at UTSA. During his eight-year tenure as the dean, the College of Engineering experienced a 40% increase in student enrollment, a 50% increase in faculty size, and a 400% rise in research funding. In 2010, working closely with the City of San Antonio and Mayor Julian Castro, he was instrumental in establishing the Texas Sustainable Energy Research Institute at UTSA which then received a $50 million pledge of support from CPS Energy.
Dr. Agrawal has served on the editorial boards of various scientific journals including the Journal of Biomedical Materials Research, Journal of Biomedical Materials Research (Applied Biomaterials), Tissue Engineering, Journal of System of Systems (IEEE), Journal of ASTM International, and the Journal of Tissue Engineering and Regenerative Medicine.
He serves on the Board of Trustees of the Southwest Research Institute and as a member of Clemson University's College of Engineering Advisory Board. He also serves on the Boards of the following organizations in San Antonio: United Way's Master's Leadership Program, Biomed SA, Texas Research Park Foundation, and the San Antonio Medical Foundation.
Dr. Agrawal's research specializes in the area of orthopedic and cardiovascular biomaterials/implants. During his professional career, Dr. Agrawal has been the recipient of several honors and awards, and has authored more than 315 scientific publications and 29 patents. His latest book, a textbook on biomaterials, was published in 2014. He was inducted as a Fellow of Biomaterials Science and Engineering (FBSE) by the International Union of Societies for Biomaterials Science and Engineering (IUSBSE) in 2008. He is also a Fellow of the American Institute for Medical and Biological Engineering and was elected the 2006 President of the Society for Biomaterials (SFB) – a worldwide organization. In 2013 he was awarded the Service Award by SFB. In late 2015, he was named a Fellow of the National Academy of Inventors for his research and innovation in orthopedic and cardiovascular biomaterials and implants.
Many of Dr. Agrawal's patents have been licensed to commercial entities. His bioengineering research group has been responsible for the launching of three companies in San Antonio. In 2007, he was awarded the Chancellor's Entrepreneurship and Innovation Award from the University of Texas System, and the Healthcare Hero Award for biomedical research by the San Antonio Business Journal. He is the 2010 recipient of the Julio Palmaz award for Innovation in Healthcare. In 2008, he was appointed by Governor Rick Perry to serve on the Advisory Board for the Texas Emerging Technology Fund (ETF), which he did until 2011. The $200 million ETF invested in start-up technology companies.
Dr. Agrawal will join the University of Missouri System as chancellor of the Kansas City campus on June 20, 2018.
---
What Colleagues Are Saying about Dr. Agrawal
Tom Bloch, chair of the UMKC Foundation Board
"Dr. Agrawal has the experience and track record of accomplishment that marks him as a strong leader, but what really stood out for me was his vision for the heights he believes UMKC can reach. He speaks of making UMKC nothing less than a national model for a modern urban research university, and I look forward to working with him and supporting him and the great UMKC team already in place in pursuit of that vision."
U.S. Rep Joaquin Castro, D-San Antonio.
"Mauli has been deeply engaged, not only with the university, but with the larger community of San Antonio in helping us build infrastructure in STEM fields and well beyond that. He's a true gem and we'll truly miss him. He's a collaborative leader who takes advice and guidance from all sides and helps everyone march forward together. He both listens and leads."
Ramin Cherafat, CEO of McCrownGordon Construction
"During the search process, Dr. Agrawal demonstrated a clear passion for working with alumni and civic leaders as we work to make Kansas City a major hub of industry for the nation. He understands the important role that higher education institutions play in economic development, including new research discoveries and the development of a highly trained workforce. I'm looking forward to working with him as we envision the future of UMKC and Kansas City."
Margo DelliCarpini, dean of the College of Education and Human Development at UTSA
"Your institution is gaining an incredibly qualified candidate. He is a progressive and visionary leader who is very supportive of academic affairs and the mission of the university. I have worked with him for the past year and a half since I came here as dean in August of 2016, and every interaction I have had with him has shown how he puts the success of students, faculty and staff and the mission of the university at the forefront of everything he does. Our loss in San Antonio is your gain in Kansas City. He strives for transparency, accountability and shared governance. He has been a pleasure to work with."
Terry Dunn, co-chair of UMKC chancellor search committee
"Dr. Mauli Agrawal is a very remarkable educator, entrepreneur, innovator, servant leader and collaborator. I truly believe he is the right person at the right time to transition UMKC into one of the great urban research universities in this country. It is UMKC's time and the metropolitan region of Kansas City's time to achieve greatness."
Taylor Eighmy, president of the University of Texas at San Antonio
"Mauli has devoted the last 15 years of his academic career to important leadership positions at UTSA, and he's left a profound impact on our institution with great work supporting engineering, research and the academic enterprise. We are forever grateful for all that he has done for our institution. This is a wonderful opportunity for Mauli and Sue; he'll be missed here at UTSA but he has a big adventure ahead of him as the new chancellor at UMKC. We expect that he will do a wonderful job in his new role and wish him the absolute best."
Ruyan Guo, Robert E. Clarke Endowed Professor, Department of Electrical and Computer Engineering at UTSA.
"Mauli knows everything about faculty life and has the heart of a faculty member. I could see in his eyes how excited he was when he would meet new junior faculty. He also had so much joy in seeing the faculty he helped make tenure to go on to become leaders in the university. Dr. Mauli Agrawal has exceptional accomplishments as a professor, researcher, inventor and administrative leader. He has a deep connection and lasting trust with the staff he works with and people in the community. His leadership talent shines as he inspires students, faculty, civic leaders, alumni and the private sector to work together toward realizing his vision for excellence. Like UTSA, UMKC is also an urban-serving university, and he is going to be an outstanding leader for UMKC."
John McCarrey, endowed professor of biology at UTSA
"I've been at UTSA for over 27 years. I have seen him go from faculty to department chair to dean to vice president for research and now interim provost. He has been very active both administratively as well as scientifically. He has been instrumental in bringing our institution a very long way, from one that was not very research intensive to one that is much more so. He's been very much the face of our institution to the community. He's been an excellent leader, with the foresight to help us progress. We're trying to become tier one, and we've made a lot of progress toward that goal. He's been a big part of that. We're going to miss him. I wish him absolutely the best. I'm sure he's going to be a big asset to your institution."
Linda E. Mitchell, co-chair of search committee and chair of UMKC Faculty Senate
"As co-chair of the Chancellor's Search Committee, I was inspired by the interviews we had with our tremendously strong candidates. Dr. Agrawal stood out for me, not only because of his vision, creative energy and experience, but also because I saw ways in which his perspective perfectly mirrors that of our own Provost Bichelmeyer. With two such extraordinary leaders, we can be the kind of beacon of transformation our region needs and the intellectual and academic powerhouse we have always had the potential to be. I am very excited to see what we can do under the leadership of Chancellor Agrawal and Provost Bichelmeyer, and I am proud to be a member of the UMKC faculty."
---
Search for University of Missouri-Kansas City Chancellor
Search Committee
On September 29, 2017, University of Missouri System President Choi announced the national search for the next Chancellor of the University of Missouri-Kansas City (UMKC) campus.
"Our Kansas City campus is an integral part of our UM System, and its success contributes significantly to the success of the entire state," Choi said. "We are confident that we will be able to generate a broad, high-quality pool of candidates from a national audience based on the tremendous strength and reputation of UMKC as well as the efforts of our in-house recruitment staff and nominations from our community, campus leadership and committee members."
The search will be led by the UM System HR Executive Initiatives team.
The search committee is co-chaired by UMKC Faculty Senate Chair, Martha Jane Phillips Starr Missouri Distinguished Professor of Women's and Gender Studies and Professor of History Linda Mitchell and UMKC alum and former President and Chief Executive Officer of JE Dunn Construction Group Terry Dunn. The committee has the important task of engaging various groups in order to listen to constituent voices regarding the search and gather feedback and campus perspective regarding the qualities/qualifications of the next Chancellor of UMKC.
Committee members look forward to hearing from leadership groups and campus community members including faculty, staff, students, alumni, retirees, administrators and business partners. The collected input from these stakeholder meetings will directly influence how the position is communicated to prospective candidates.
---
---
Timeline
September 29, 2017 – President Choi announces search, committee
October 9, 2017 – Committee meeting
October 9, – UMKC Open forum, 218 Bloch Executive Hall, UMKC Henry W. Bloch School of Management
October - November 2017 - Candidate pool development
November 15, 2017 – Committee meeting
November – December, 2017 - Identification and Interview of Semi-Finalist candidates
December 3 – 4, 2017 – Committee meeting
December - January, 2018 - Finalist Visits and Chancellor Announcement
---
Reviewed February 06, 2018.