Estimate your retirement benefits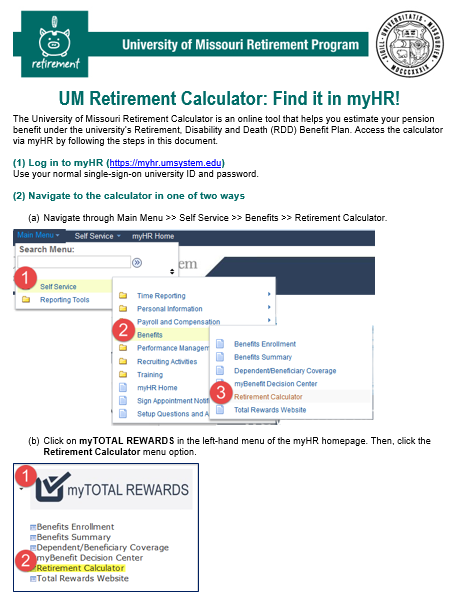 Download a step-by-step tutorial (PDF, 179KB)
The University of Missouri Retirement Calculator is an online tool that helps faculty and staff estimate pension benefits under the university's Retirement, Disability, and Death (RDD) Benefit Plan. Access the calculator via myHR with the following steps, or click on the tutorial on the right for step-by-step illustrations.
Log in to myHR (https://myhr.umsystem.edu).
Navigate to the calculator in one of two ways:

Click the myTOTAL REWARDS button in the left-hand menu of the myHR homepage. Then, click 'Retirement Calculator.'
At the top of the screen, click on Main Menu >> Self Service >> Benefits >> Retirement Calculator

On the next screen, click 'Retirement Calculator' to go to the login screen. Then, log in using your normal, single sign-on, university ID and password.
Review the disclaimer, and click I've Read and Understood the Disclaimer to move on.
Click Estimate your future pension payments to start the calculator.
On the Project Your Benefit screen, complete the fields shown and submit.
Review the results returned and print your Payment Options Report. Click See Payment Options at the top of the screen. Then, click Printer Friendly in the upper, right corner of your screen.
End your session.
For questions, contact the HR Service Center at retirement@umsystem.edu, 573-882-2146, or toll free at 800-488-5288.
Reviewed February 17, 2016.